(Last Updated On: March 30, 2014)
[fblike style="button_count" showfaces="false" width="450″ verb="like" font="arial"]
Vehicles are still being removed from an earlier pile up on the A380 that involved 24 vehicles.
Heavy rain and hail is believed to have contributed to the crash which has caused tailbacks on one of Devon's main road just after 9am this morning.
Three people were injured in the accident with 2 apparently taken to Hospital.
Martin Lucas who owns Newton Abbot business Sheds to Last was involved in the accident was very lucky, telling us there wasn't even a scratch on his van.
Martin explained how the majority of people had managed to move onto the hard shoulder but all lanes had been involved.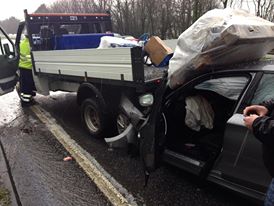 Error: Your Requested widget "Facebook like box (jetpack) " is not in the widget list.
[do_widget_area sanfrancisco-default-sidebar]

[do_widget id="media_image-29"]
[do_widget id="media_image-40"]
[do_widget id="media_image-38"]
[do_widget id="media_image-18"]
[do_widget id="media_image-36"]
[do_widget id="media_image-44"]
[do_widget id="media_image-43"]
[do_widget id="media_image-23"]
[do_widget id="media_image-42"]
[do_widget id="media_image-31"]
[do_widget id="media_image-28"]
[do_widget id="media_image-41"]
[do_widget id="metaslider_widget-2"]
[do_widget id="metaslider_widget-3"]

[do_widget_area widgets_for_shortcodes]
[do_widget_area wp_inactive_widgets]

[do_widget id="search-2"]
[do_widget id="search-4"]
[do_widget id="archives-11"]
[do_widget id="nav_menu-3"]
[do_widget id="archives-4"]
[do_widget id="archives-6"]
[do_widget id="text-2"]
[do_widget id="text-39"]
[do_widget id="categories-3"]
[do_widget id="recent-posts-2"]
[do_widget id="archives-2"]
[do_widget id="recent-comments-2"]
[do_widget id="categories-2"]
[do_widget id="meta-2"]
[do_widget id="eu_cookie_law_widget-2"]
[do_widget id="eu_cookie_law_widget-3"]