(Last Updated On: June 26, 2014)
THHN (Torbay Holiday Helpers Network) turns 5 years old this summer and they are having an exclusive birthday party, thanks to their friends at the Torbay Fringe Festival and Greenway Ferry, THHN has its own party boat as part of a celebration flotilla.
Founder Luke Tillen told us
"We have been given the fantastic Fairmile boat to use as our party boat, for a cruise from Brixham harbour to Babbacombe Bay; the home of THHN. The cruise takes place on Saturday 5th July and leaves Brixham at 6.30pm. Our very own ambassador and musical genius Gary Nock is travelling down from London and will be providing the entertainment for the evening! Tickets are limited and this will sell out, so please book your tickets now! Come and join for this very special celebration! (N.B. When booking please make sure you state that you want to be on the THHN boat)"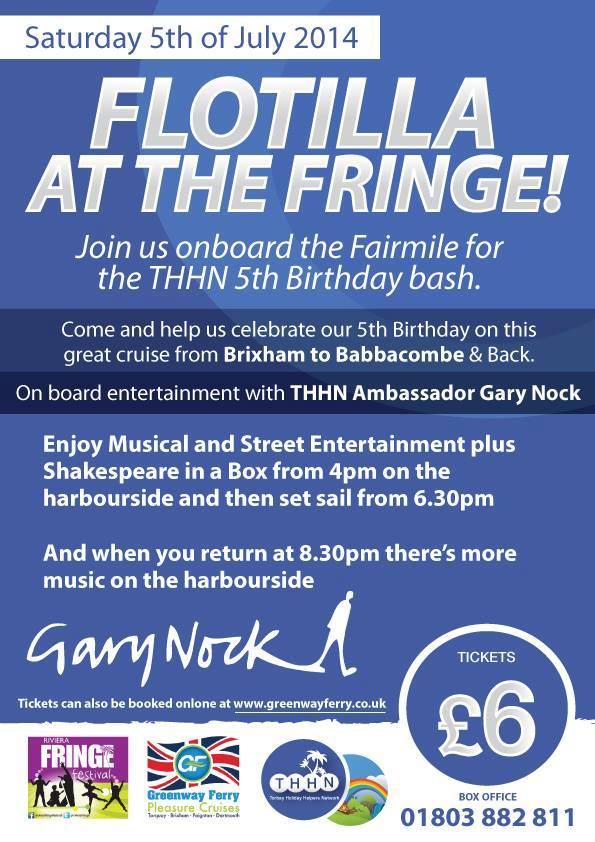 If you have heard of Gary Nock, give your ears a treat and check out his music…
You can help THHN with the chance to win £5000 by voting for Lukes 100 mile run here http://www.mountainwarehouse.com/charity/entries/?p=2&s=0 a few clicks and you could help them win some much needed money.
To find out more about THHN see www.thhn.co.uk