TV adventurer Monty Halls is offering to take people on a tour of the world in just one evening.
Monty, who lives in Dartmouth, is coming to Living Coasts in Torquay to talk about his life as a TV presenter, marine biologist, travel writer, public speaker and diver. His talk promises to roam the world in just one evening.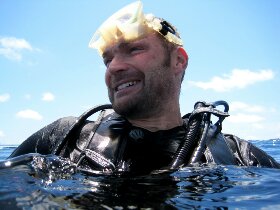 Monty explains: "This is a lifetime of ocean exploration packed into a single talk. It ranges from South Africa to Northern Norway, from magnificent sharks to colossal squid, from the tepid Tropics to the frigid Poles. Illustrated throughout by images taken by world class photographers, and video footage recorded by some of the best wildlife cameramen in the business, it's a must for anyone passionate about the sea, about exploration, and the creatures with which we share our blue planet."
In addition, Living Coasts' Clare Rugg, a scientist and educator in her own right, will talk about Torquay's coastal zoo and aquarium and its conservation work at home and overseas.
An Evening With Monty Halls, on Saturday 18th October, is at Living Coasts, Beacon Quay, Torquay. Tickets are £12.50 per person (16 years plus only). Tickets can be booked online or by telephoning 0844 474 2226.
Monty's Great Escapes caters for all manner of outdoor adventures. The team of marine biologists and local guides aims to explore the marine environment, celebrate the life with in it and educate people of all ages. Great Escapes provides the opportunity for members of the public to come face to face with marine wildlife through boat trips, seashore walks, diving excursions and much more. With the chance to see seals, dolphins, porpoises, sharks and seabirds, it's perfect for the wildlife enthusiast, or anyone looking to have a fun day out!
For more information go to www.livingcoasts.org.uk or ring 0844 474 3366.
Keep up to date with what's happening in the area, join us on facebook…
[do_widget "Facebook like box (jetpack)"]