[fblike style="button_count" showfaces="false" width="450″ verb="like" font="arial"]
Today is Arthrogryposis awareness day….
Arthrogryposis?
Arthrogryposis is a descriptive term to describe a congenital condition that causes curved joints in several areas of the body at birth.
This is caused when a baby is prevented from normal movement in the womb either from biological or external factors.
Over 260 babies are born with arthrogryposis every year in the UK and is normally diagnosed at birth or at an ultrasound examination.
Contrary to popular belief, this condition is not a result of a problem in the formation of the joints, but rather with the development of the connective tissues around them.
In arthrogryposis, this tissue fuses a joint in place, severely restricting movement in the areas affected.
Other causes of arthrogryposis include lack of space in the uterus, muscle abnormalities, nerve abnormalities, blood circulation problems and maternal illness.
Symptoms of the condition vary from person to person and there are over 200 types of conditions that are covered by the term arthrogryposis.
The most common type of arthrogryposis affects the limbs, but it can also affect other parts of the body including the face, spine and hands.
There is no cure for arthrogryposis, but treatment is available to significantly improve movement in the affected areas.
Treatment normally begins in childhood with courses of physiotherapy, surgery and orthosis (splints).
With this treatment, the majority of children go on to enjoy active lives, but for some the condition remains unimproved. However, the condition is not progressive which means that it will not deteriorate over time.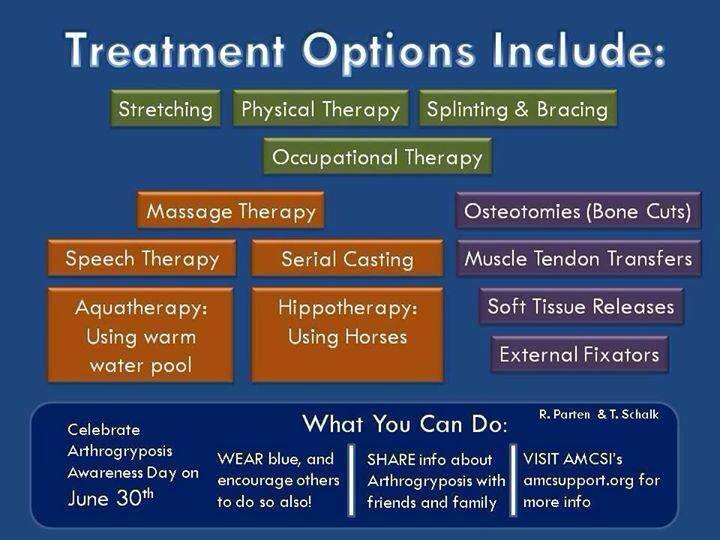 Lots of people are wearing blue today to raise awareness.
Do you want to add to this article? Get in touch!
For more information or support visit www.amcsupport.org
Keep up to date with whats happening in the area by joining us on facebook:
[do_widget "Facebook like box (jetpack)"]