[fblike style="button_count" showfaces="false" width="450″ verb="like" font="arial"]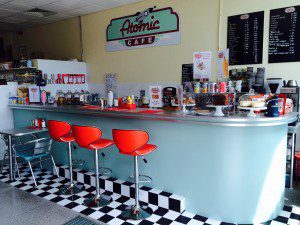 A blast from the past has taken up residence in the Newton Abbot indoor market in the form of a retro, diner-style café. The Atomic Café officially opened on the 21st June and have been enjoying their success ever since. The café is a much needed burst of colour and energy into the town, timed nicely with the recent remodelling of the Market Walk.
Owner Claire Hall already had a large fan following from her mobile endeavour The Retro Coffee Company, now with her new permanent residence the fans will surely continue to grow in number. Although not looking to go on the road again, Claire is looking to expand in other areas in the future.
The café offers a delightfully delicious menu of hot and cold drinks, savouries and extremely tempting sweet desserts. Claire plans to adapt the menu with the changing seasons, keeping her menu up-to-date and always exciting. When speaking of their popular menu, Claire said:
Our menu of course has suburb locally sourced cupcakes and naughty treats including pancake stacks with ice cream and maple syrup, but I also cater for those with a more savoury taste buds, we make fresh sandwiches to order, and for those chilly days offer American-style hotdog with sweet onions.
Claire has many plans for the future, not only for The Atomic Café, but also hopes to inject more retro style into market with the help of Teignbridge Council.
The Atomic Café has much to offer and is well worth a visit, be sure to experience this retro oasis in the vast modern world, no doubt your visit will be the first of many. You can find The Atomic Café in the indoor market in Newton Abbot, be sure to show your support for them on Twitter and Facebook also.
Keep up to date about what's happening around South Devon,
join us on facebook.
[do_widget "Facebook like box (jetpack)"]