[fblike style="button_count" showfaces="false" width="450″ verb="like" font="arial"]
It's all about the birds and the bees at Paignton Zoo right now.
Three Ural owl chicks can be seen in the Forest area of the Zoo. And a colony of Cornish black bees has been installed in a new public viewing hive.
The bee hive is part of a Heritage Lottery Fund project run by B4 – Bringing Back Black Bees, a Cornish conservation organisation working to promote the qualities of the native black honey bee Apis mellifera mellifera.
Philip Knowling, spokesperson for the Zoo, said: "The aim is to reach people who don't keep bees. Bees are fascinating and amazing and vital to the way we live, so we all need to know a bit about bees."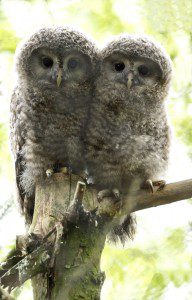 The Ural owls hatched in early April and fledged on 14th May. The Zoo has a good breeding record with the species; they are also bred fairly commonly in other top collections.
The three youngsters will be caught, ringed and sexed by taking feathers for DNA analysis. They will also be moved away from their parents and into a separate enclosure in roughly a month or so. It's likely that they will move to another collection to make up breeding pairs before the end of the summer.
Other new arrivals include a capybara and a mandrill.
Paignton Zoo Environmental Park is a registered charity. For more information go to www.paigntonzoo.org.uk or ring 0844 474 2222.
[do_widget "Facebook like box (jetpack)"]