The Torbay Blue Cross Fundraising group will be having a Coffee Morning this Saturday, 11th October from 10.30am until 1.30pm
We spoke to them to find out more:
"We will be having a special performance and the unveiling of the Blue Cross Animal band, we will be asking for suggestions for a new name from people who attend. The concept of the band was recently suggested by one of our longest serving volunteers, who thought that it would be a fun way of fundraising.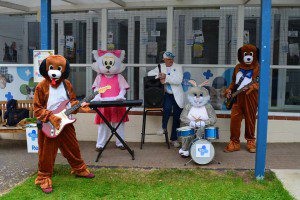 "We feel that the development of a band was important step for the Torbay Blue Cross for involving our future generation of children. To be involved with and maybe gain an understanding of what we are trying to achieve here in Torbay.
The animals will give the impression of playing instruments while vocals are sung by front man Peter, if he can remember the words! There will also be some other songs to listen to which will be aimed at all ages. Children will also be invited to play/sing along with the band members.
"We have recently undertaken the project 'Winter Warmers' Our group are  raising funds to purchase Perspex Boards to cover the mesh on our two catteries over the winter months, this will help to keep the accommodation much warmer and the cats dry in the outer part of their pens, as well as not restricting their view. To help raise the money we have been holding coffee morning, raffles and now we have added the Animal band!! Alongside this we shall be having a Fabulous Tombola and delicious cakes for sale! We will also have a selection of handcrafted goods for sale.
"If anyone would like to support our fundraising efforts please come along to our coffee morning to see the launch of the band, Or if you have any Tombola or Raffle prizes Please get in touch with the group by email- craftynoo@live.co.uk or call the centre on 0300 777 1550″
Torbay Blue Cross is located at Ashley Priors Lane, Watcombe, Torquay, Devon TQ1 4SE