Police in Newton Abbot have issued images of two suspects they wish to identify following a spate of high value shoplifting offences.
The two suspects are believed to be responsible for a series of high value shoplifting offences that have occurred in Newton Abbot, Plymouth and East Devon.
On each occasion they act together, with the woman initially entering the store, selecting high value cosmetics and electrical items which she places in a basket.  Her male accomplice then enters the store a short time later pushing an empty push chair. The items are then placed in the push chair and the man leaves. The woman then abandons the basket and then leaves not purchasing anything.
On each occasion the value of goods stolen is estimated between four and five hundred pounds.
Between March this year and June the pair visited the Boots store in Greenhill Retail Park, Newton Abbot on three separate occasions and stole cosmetic and electrical items. Also in March the couple visited Dingles in Plymouth City Centre and stole expensive items.
They also visited the Boots store located in the Magnolia shopping centre, Exmouth in June and again stole items using the same tactic.
Prior to this in October and November last year the pair visited the Boots store in the High Street, Honiton and stole items.
The female suspect is described as being, a white woman aged between late 30's and mid 40's, 5'6" in height, slim build with dark hair in a pony tail and wearing black and white glasses. The male suspect is described as being a white man, aged between 30 and 40 years, approximately 5'6" to 5' 7" in height, bald, chubby build and pushing a dark coloured push chair with orange detailing around the chair and hood.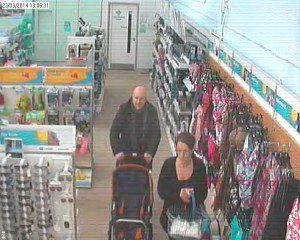 Anyone who recognises either of these persons or has any information regarding the thefts is asked to contact police on 101 quoting police reference CR/67065/14 or alternatively call Crimestoppers anonymously on 0800 555111 or report online at
www.Crimestoppers-uk.org
[do_widget "Facebook like box (jetpack)"]