[fblike style="button_count" showfaces="false" width="450″ verb="like" font="arial"]
A Devon conservation charity is challenging people to face the future – by eating insects!
Paignton Zoo is running a bug eating challenge in Princesshay, Exeter, on Friday 4th July. Paignton Zoo's Hayley Gibson said: "People can try bugs including mealworms, locusts, crickets and weaver ants. Anyone who eats one will get a sticker and a certificate!"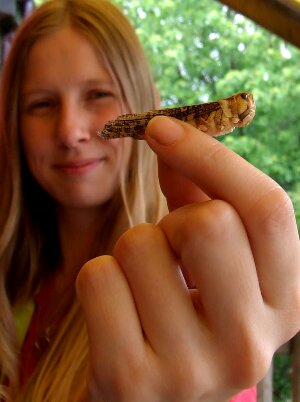 But the challenge comes with a serious message. Hayley: "The global population could reach 8 billion by 2025 – current food production techniques are simply not sufficient. We need to feed the world without destroying the environment, habitats and species.
"Billions of people throughout Asia, Africa and Australasia regularly eat insects. They are good for you and more efficient to farm than cattle. In fact we already eat many invertebrates – squid, prawns and mussels. We want to help people overcome their squeamish attitude towards eating terrestrial invertebrates – because this is the future of food!"
It's all part of the Summerdine promotion, which is rewarding regular diners at Princesshay's restaurants with free days out at local attractions, including Paignton Zoo. All the insects are sustainably sourced from Thailand and are not live.
Paignton Zoo Environmental Park is a registered charity. For more information go to www.paigntonzoo.org.uk or ring 0844 474 2222.
Keep up to date with whats happening in the area by joining us on facebook:
[do_widget "Facebook like box (jetpack)"]