Update:
Coastguard rescue officers first on scene located the casualty via cry's for help between the sea defence and the cave.
Torbay coastguard set up a rig and lowered an ambulance technician and stretcher to the casualty.
Berry Head Coastguard set up a second cliff rig and lowered a HART technician to assist in stabilizing the casualty.
The casualty was recovered to the top of the cliff to an awaiting ambulance.
Torbay inshore lifeboat also assisted, recovering the ambulance technician, rescue team members and a second casualty requiring assistance.


[You can find Torbay Coastguards facebook page here: www.facebook.com/torbaycoastguard
Show some support and give them a 'like']
---
Emergency services were called to Corbyn head this afternoon just before 3pm this afternoon (24 September)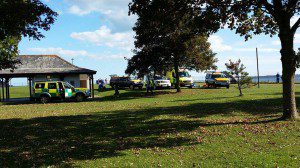 Initially reports suggest that a man had slipped and become trapped on rocks, his injuries were unknown.
The incident is on going.
We will continue to update you as information becomes available.
Keep up to date with what's happening in the area, join us on facebook…
[do_widget "Facebook like box (jetpack)"]