(Last Updated On: July 22, 2014)
[fblike style="button_count" showfaces="false" width="450″ verb="like" font="arial"]
It's that time again. Competition Time! The Green Room's 90's Boat Party is taking place on Friday 6th June at 7:30pm and you're all invited.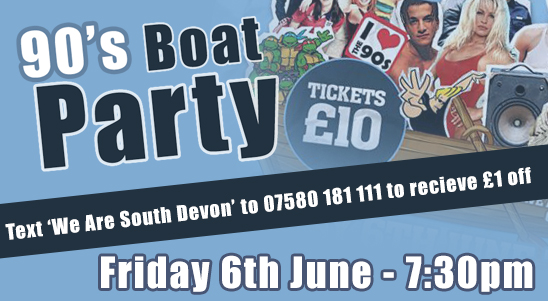 We Are South Devon has a special offer for you guys and a chance to win a pair of tickets we're giving away for the 90's themed Boat Party.
All you have to do is like and share the article for a chance to win. We will then put your name into our virtual hat and pick a jammy bugger at random.
If you win, we will post you your ticket(s) to your door the next day.
You must be 18 years or over to enter.
Good luck!
Additionally, if you text 'We Are South Devon' to 07580 181 111 – you will receive £1 off your ticket price.
If you have any questions about the Boat Party or our competition you can always message us or comment on this article.
Error: Your Requested widget "Facebook like box (jetpack) " is not in the widget list.
[do_widget_area sanfrancisco-default-sidebar]

[do_widget id="media_image-29"]
[do_widget id="media_image-40"]
[do_widget id="media_image-38"]
[do_widget id="media_image-18"]
[do_widget id="media_image-46"]
[do_widget id="media_image-47"]
[do_widget id="media_image-23"]
[do_widget id="media_image-42"]
[do_widget id="media_image-31"]
[do_widget id="media_image-28"]
[do_widget id="media_image-41"]
[do_widget id="metaslider_widget-2"]
[do_widget id="metaslider_widget-3"]

[do_widget_area widgets_for_shortcodes]
[do_widget_area wp_inactive_widgets]

[do_widget id="search-2"]
[do_widget id="search-4"]
[do_widget id="archives-11"]
[do_widget id="nav_menu-3"]
[do_widget id="archives-4"]
[do_widget id="archives-6"]
[do_widget id="text-2"]
[do_widget id="text-39"]
[do_widget id="categories-3"]
[do_widget id="recent-posts-2"]
[do_widget id="archives-2"]
[do_widget id="recent-comments-2"]
[do_widget id="categories-2"]
[do_widget id="meta-2"]
[do_widget id="eu_cookie_law_widget-2"]
[do_widget id="eu_cookie_law_widget-3"]