There are two kinds of cyber bullying, direct attacks (messages sent to your kids directly) and cyber bullying by proxy (using others to help cyber bully the victim). Because cyber bullying by proxy often gets adults involved in the harassment, it is much more dangerous.
So is cyber bullying just harmless banter?? A bit of name calling??
NO IT MOST CERTAINLY IS NOT.
It is vile.
It is sinister
For those of you that have not come across it the only way to 'explain' it is by sharing a series of screen shots of the ACTUAL abuse/cyber bullying teens in OUR area have received.
All names and photos have been blacked out to protect both the target/victim and the person's accounts that has been used to send these messages.
***********************************
WARNING
It does not make pleasant viewing
***********************************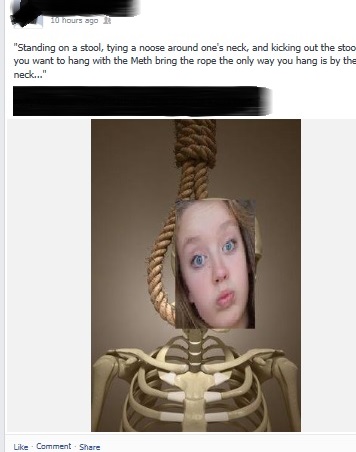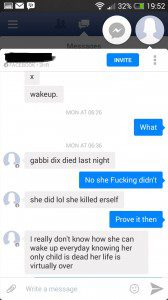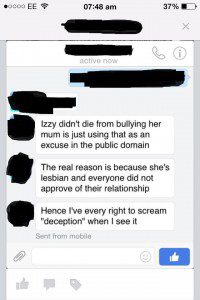 below are a series of three actual examples of a local teenager being targeted directly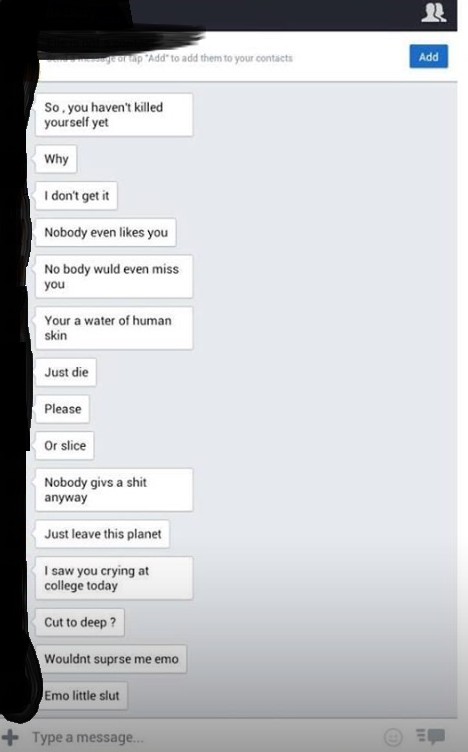 Even after this was reported to both the College and the Police the teen involved received this: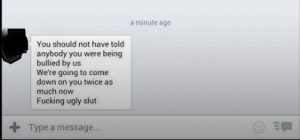 I wonder how many Parents are aware of the extent of cyber bullying and the vile content their young teens are being subjected to.
These 'posts' tagged local teens in the Torbay and South Devon areas reaching an audience of hundreds.
Would you want your child being subjected to this?
Would you know if they were?
I myself have been subjected to a death threat.
My home phone number was circulated and I received phone calls because of the work I am doing to raise awareness and the information I am passing on to the Police High Tech Crime Unit.
Will it stop me………………NO IT WILL NOT.
If you or anyone you know has been affected by cyber bullying please contact me via our facebook page: https://www.facebook.com/IzzyDixAntiBullyingMemorialPage