Torquay had it's 'Christmas Sparkle' last night (Saturday 15 November) and there have been mixed reviews.
Firstly, we have heard nothing but positive comments about Green Star Man and his family, who attended despite their recent tragedy to continue to raise awareness about organ donation.
Also, nothing but praise for all the children who took part in the lantern parade and 'Pop up Torquay' who have ran lantern making workshops on the lead up to the event.
Bright Green Stars said on their facebook page:
"That was a hard day and not entirely successful. Thank you so much to the bands and choirs and other entertainers and thank you to Sarah & Mark for their extraordinary input. Thank you too to to the huge number of children that went out on the Green Star hunt and took part in the lantern display. So sorry that it was not the day BGSM had pictured in his crazy head . Maybe next year . xx"
Pop Up Torquay said:
"Hey everyone – we were the people (just 2 of us) that were tasked with making all the lanterns in the parade from the end of October and you can imagine our frustrations!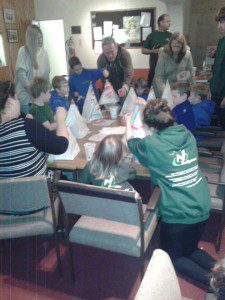 "It was REALLY hard to get schools involved because it was all left too late & we were delighted with those that did.
"BIG THANK YOU TO HOMELANDS, STOODLEY KNOWLE, THE PRIORY, WHITE ROCK & SHERWELL VALLEY & ALSO TO THE YOUNG PEOPLE AT THE ACORN CENTRE, CHELSTON YOUTH CLUB, TEIGNBRIDGE NAVIGATORS, ELLACOMBE YOUTH GROUP & ALL THE KIDS WHO BROUGHT THEIR PARENTS ALONG TO POP UP TORQUAY, MCDONALDS, WILKO,PIER POINT & TORRE ABBEY.
"We made lanterns with 500 children in 3 weeks (one of which was half term!) We battled to get the parade started later so it would be in the dark and we asked who the band were going to be who led the parade and where all the people in the parade would be able to stand in the harbour to see the final part of the harbour events but didnt get an answer.
"We would like to say a massive thank you to all the kids & families who were part of the parade & also to Bright Green Stars Man who led it despite their recent family tragedy – there's a lot of talk all over facebook about community and people getting involved and we were so frustrated that so many people didn't but very proud of those who did – so if you made a lantern and walked in the rain yesterday to show it off then you should feel very proud today & we hope that you enjoy your lantern over the festive period with your families at home x"
Spotted Torquay was inundated with messages, instead of posting them all, people were invited to leave their comments, here are just a few:
– "The green star man was the onky high light. Such a brave man really moved me with his story. He was definitely worthwhile special guest!"
-"What a shame. You can bet your bottom dollar there were people who worked hard to try make this event a success and probably raised their concerns repeatedly during organisation. Maybe they will be listened to in future!? There's clearly alot to be learnt… but Thankyou to those who tried, especially the 'Bright Green Star' family who despite their tragedy, still carried on bravely regardless! Huge respect to them"
– "Was very disappointing, couldn't see anything unless u was near the front, needs to be something for all to see. Also a shame that half the lights were already on n that Hoopers didn't have their traditional decorations up.
I say bring back the carnival, was the highlight of my childhood and Xmas."
– "Bring back the old carnival! This was a disaster."
– "Messages from my 6 and 8 year olds, that was rubbish and we should have stayed at home and cuddled up on the sofa… says a lot really!"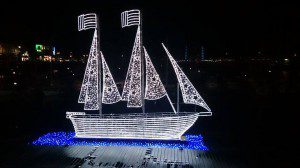 The 'Grand Finale' has been heavily criticised. The main issue, that people were unable to see – resulting in many disappointed children.
'Shot By Rob' [www.shotbyrob.com] was on hand to capture the 'Spectacular' (Which looks pretty impressive, thanks to his photography!):
A lot of people are saying they missed the light switch on, here you go…

What did you think of the event? Join us on Facebook and have your say:
[do_widget "Facebook like box (jetpack)"]