Door staff at some of Torquays pubs and clubs will be able to seize drugs and trash them.
New 'bins' will keep drugs off the streets thanks to Devon and Cornwall Police and members of Torbay's licensed trade. 
Drugs bins have been installed at various Torquay pubs and clubs and door staff will be able to seize drugs and place them in the secure bins, ready for collection by the police.
Acting Sergeant Jeff Coe, Devon and Cornwall Police Community Safety Sergeant working with Torbay Council said:
"Drugs bins send a very clear and visible message that drugs in whatever form, will not be tolerated. There can be a perception that a well used drugs bin means a 'drugs problem' but the reality is that safely seized and secured drugs directly result in less illegal substances in our communities and in our licensed premises. Most drugs that are seized by door staff are in small quantities and whilst we will consider all drugs seizures seriously, any significant amounts which may indicate supply will receive a robust police response".
"Door staff are the eyes and the ears of the night time community and often have valuable intelligence that can help the police in preventing and responding to crime. We have some great door staff in Torbay and drugs bins encourage them to carry out even more searches by providing a safe and secure system that they can be confident in".
"Preventing crime and improving the overall night time experience in our area is not just a job for the police and by working in direct partnership with the local licensed trade we can be more proactive and efficient in dealing with drug related offences".
When drugs are seized by Devon and Cornwall Police they may be tested before being destroyed which can give the police valuable intelligence about new drugs reaching the market.
Mat Jarratt, General Manager at Mambo Torquay said "We were pleased to be approached by Devon and Cornwall Police to have a drugs bin. For us a drugs bin isn't an advertisement of a 'drugs problem'. In fact it's the complete opposite and demonstrates how seriously we take drug prevention at our premises. It's important to talk about drugs and drug use openly and try to do something positive together to tackle it because simply ignoring the issue won't make it go away".
"We have a zero tolerance drugs policy at our premises and our door staff will proactively search individuals when necessary and ensure that any drugs seized are placed safely and securely in the drugs bin for collection by the Police. This prevents drugs from entering our premises, and removes them from the streets for good".
This work is part of a series of activity by Devon and Cornwall Police and Safer Communities Torbay with support from the licensed trade which aims to improve Torbay's night time experience for residents and visitors.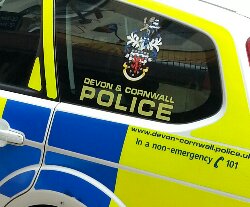 Keep up to date with what's happening in the area, join us on facebook…
[do_widget "Facebook like box (jetpack)"]