The Great Wild Occombe Monster Hunt
May 1, 2014

-

August 31, 2014

£2.50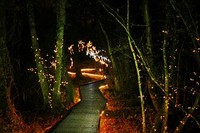 Kids, come on a monstrous wild adventure this year at Occombe Farm!
Wild monsters with pointed fangs, hairy bodies, gnarly skin and gruesome eating habits are lurking in the woods at Occombe Farm and they only have one thing on their mind – protecting their most precious treasure! Every month a new wild monster will appear and your mission is to find it by crossing swamps, balancing on logs, dipping in ponds and hunting in trees to find its hiding spot on the nature trail. Find the monster and you will be rewarded with a sticker and a prize, plus the code to unlock a map to help you find the next monster. Collect all four monsters and you will gain the powers to reveal where their most precious treasure is and gain a very special prize! There will also be fun wild monster activities happening at the farm every weekend throughout the summer – look on our website for more details. Suitable for 4-12 year olds
Meet: Occombe Farm Visitor Centre
Time: 10-3pm
Cost: £2.50 per child per monster trail (total of four different monster trails from May to August), includes sticker and prize and bumper prize if you do all four trails.