Is Ex Hurricane Bertha heading towards South Devon?
The remains of Hurricane Bertha, which has now weakened in to an Atlantic storm, will travel towards the UK over the next few days.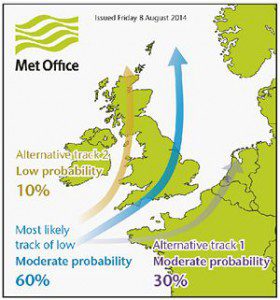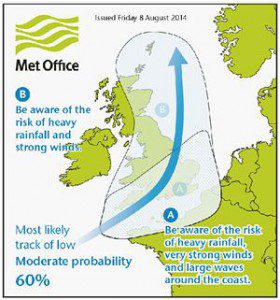 Currently, the south of England is thought to be most at risk but there is also a 30 per cent chance the storm could pass across the north of France and miss the UK.
Chief Meteorologist, Paul Gundersen, said: "There is still some uncertainty surrounding this weekend's weather, with the potential for heavy rainfall, strong coastal winds and large waves on Sunday. However, there is still a chance that the system may pass to the south of the country giving the UK a brighter day.
"Rain and strong winds may well bring disruption, especially across southern parts of the UK, with the potential for more than 50 mm of rain and coastal gusts of over 60 mph. People should stay up to date with the latest Met Office warnings."
Craig Woolhouse, Environment Agency Flood Risk Manager, said: "On Sunday and Monday a combination of high spring tides and strong westerly winds brings a possible risk of flooding to the south-west coast of England and along the Severn Estuary while heavy rain may also lead to localised surface water flooding in parts of southern and central parts of England.   However, the forecast remains uncertain so we advise people to regularly check the flood risk situation over the next 48 hours."
Warnings have come to respect the water.
Ross Macloed,  RNLI Coastal Safety Manager, said: "Extreme wave heights combined with high tides can make some normal coastal activities we take for granted significantly more risky; the force of surging water or breaking waves can easily knock you over and quickly drag you out of your depth and once in the water it can be difficult to get out. As little as one cubic metre of water weighs a tonne and shows that you should never underestimate how powerful the sea can be.
"If you are planning a coastal activity, our advice is to respect the water, and watch the shore from a safe distance and assess the conditions; think about the risk before deciding if  you need to go closer."
Join us on facebook for the latest South Devon news and events
[do_widget "Facebook like box (jetpack)"]