[fblike style="button_count" showfaces="false" width="450″ verb="like" font="arial"]
It is with a very sad and heavy heart that we have to announce that Cockington Carriage Company is to cease trading with immediate effect. It has been a very hard and difficult year since our father, Rick Passmore, passed away and we have been faced with all manner of issues, from the horses being ill to property being stolen.

We are so pleased that we gave it a shot and I believe Rick would have been proud of our efforts and what we have achieved in the last year.

The help and support that we have received from our fantastic volunteers, our family, the regulars in Cockington and our followers has been tremendous and there are not enough words that can express how grateful we are. We would like to thank you all from the bottom of our hearts.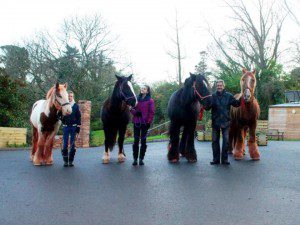 Our beautiful horses will soon be moving out of Cockington. We are currently looking for new homes for Jesse and Louie as they are both still very young and have plenty of love to give and years of riding ahead of them. Bert and Gypsy already have new homes and we hope to have a new yard and land for our old boys Brandy & Bracken very soon.

In the meantime all of our horses will receive the love, care and attention that we have been able to give over the last year with your help, support and kind donations. We have recently released our 2015 calendar which will help to pay for their food and care over the winter and we hope that you will continue to show your support and purchase a calendar for yourself or as a Christmas gift for a loved one.

Next weekend, 19th October is Apple Day and we expect this to be our last event in Cockington. We hope to have all the horses in the yard so please come down to enjoy the day's events in Cockington and pop round to see us too.

With the help and support of Gordon Oliver, the council and Torbay Coast and Countryside Trust we hope to soon have a memorial tree for Rick in Cockington, so he can forever oversee the cricket and enjoy the sunny days at peace in his favourite place.

We do hope that someone with horses will move into Cockington. This beautiful country park and its 'old worldly' feel needs this type of traditional trade and feature.

We wish everyone the very best for the future and we hope that Cockington continues to thrive.
Contributed by: Kelly Passmore, Marc Bradbury, Dani Passmore and Adam Williams.