A two week firearm amnesty begins in Devon tomorrow. The amnesty starts at 8am on 3rd November 2014 and runs until 17th November 2014.
Devon and Cornwall police are asking for any unwanted or unlawfully held firearm or ammunition to be handed in, so that it can be disposed of safely at one of the participating amnesty points.
Members of the public can hand in items at police stations in Exeter (Heavitree Road), Torquay, Plymouth (Charles Cross and Crownhill), Barnstaple, Bodmin, Camborne, St Austell and Truro. They will be able to do this without fear of prosecution for possession while at the same time disposing of their weapons safely.
Police are asking people to surrender unlawfully held or unwanted guns and ammunition to help avoid them getting into the wrong hands and potentially becoming involved in criminality.
Firearms include weapons that can be fired, antique weapons, replicas, air weapons, BB guns and stun guns.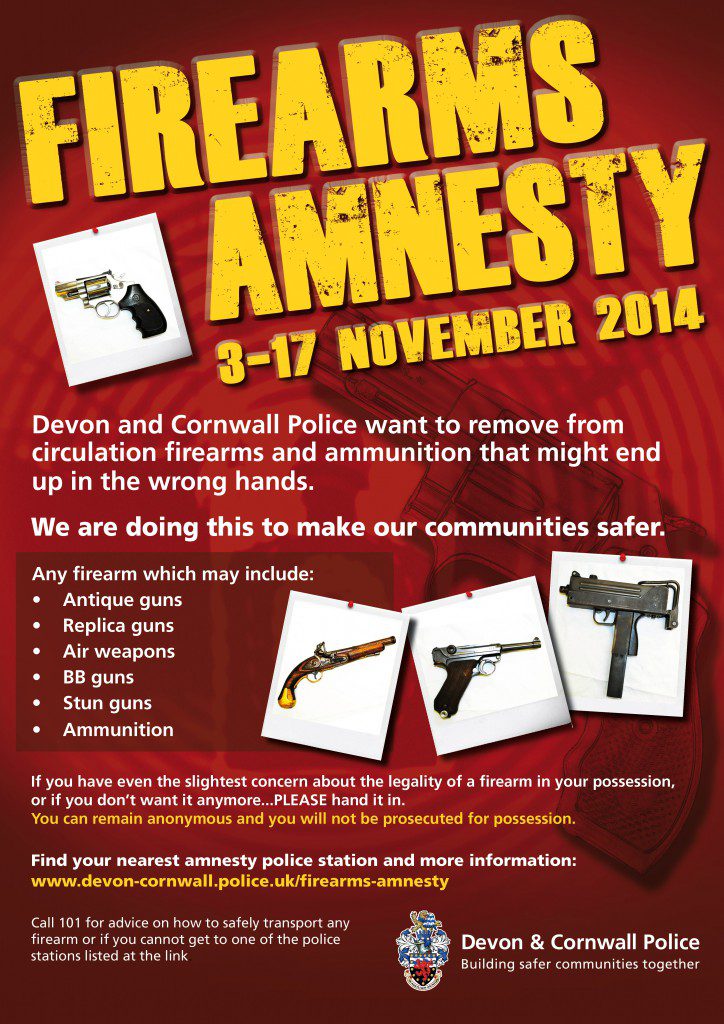 Operations Chief Inspector Dan Evans said: "If you are in any way uncertain about the legality of a weapon or ammunition that you possess, if there's even a shadow of doubt, we would urge you to hand it in.
"Gun crime in the UK has continued to fall year on year for the last ten years. We are not complacent about gun crime, however, which is why we are conducting the amnesty now, we want as many guns as possible to be handed in and so make our communities safer."
"Weapons and ammunition can be surrendered at the nine police stations mentioned but anyone handing in a firearm during the amnesty is advised to check the opening times of their station. To receive advice on how best to transport the weapon responsibly from home to the police station phone 101 before travelling, or to seek advice if you cannot attend one of the participating amnesty points.
"During the amnesty those surrendering firearms will not face prosecution for illegal possession and they can remain anonymous. However, the history of each live weapon will be checked for evidence of its use in crimes.
"The firearms amnesty is being held in conjunction with the National Ballistics Intelligence Service (NABIS).
Head of NABIS, Detective Chief Superintendent Iain O' Brien, said:
"Gun amnesties provide an important opportunity for people to hand firearms over to police and prevent them falling into the hands of criminals and endangering the public. We are pleased that Devon and Cornwall Police is running this operation and we hope as many people as possible take this opportunity to surrender their guns."
You can call 101 for advice on how to transport a firearm to the police station. Do not take firearms to closed enquiry offices. To see opening times, please go to www.devon-cornwall.police.uk/firearms-amnesty