This week, we will be helping Torbay Blue Cross look for forever homes for some of their cats.
Today we meet Luna and Willow.
Both cats are female.  Luna is 2 years old and Willow is 3 years old.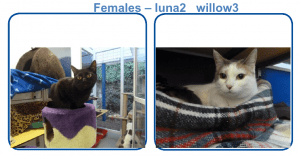 "Greetings, we are Luna and Willow. Luna is the black cat and Willow is mostly white with tortoise shell markings. We lived together previously and would like to stay together as we get along rather well.
"Sadly, we are now seeking a new home as our previous owner became poorly. We are very much hoping to find our forever home soon and even asked Santa to grant our Christmas wish as we've been such good kitties.
"We have lived with doggies in our previous home and we got on just fine, we were even known to cuddle up on the sofa together. We would prefer not live with really young humans as they can make us feel a bit anxious, but the rest of the family we can't wait to meet."
If you think you may be able to offer Luna and Willow or another cat a forever home please  look on the Blue Cross website and fill in a home finder form.
Alternatively you can call the centre on 0300 777 1550 or visit the centre at Ashley Priors Lane, Torquay, Devon TQ1 4SE