Update: Minnie has moved into her new home.
This week, we will be helping Torbay Blue Cross look for forever homes for some of their cats.
Today we meet Minnie
Minnie is a female cat and is 2 years old.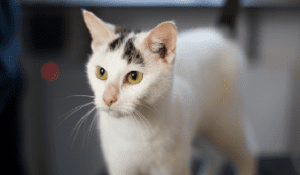 "Hi there I'm Minnie, I'm a bit of a character and full of life. I love playing which takes up a lot of energy which why I love my food so much, I would say that meal time is my favorite time of day.
"Because I'm so affectionate and I love attention I would be much a happier being an only pet, I have so much love to give and could get a little jealous. I would be more than happy to meet all the family though.
"I can't wait get settled into my forever home, and in my perfect day I would very much like to be able to go outside and explore, and then come home and snuggle up after dinner."
If you think you may be able to offer Minnie or another cat a forever home please  look on the Blue Cross website and fill in a home finder form.
Alternatively you can call the centre on 0300 777 1550 or visit the centre at Ashley Priors Lane, Torquay, Devon TQ1 4SE