Torquay Museum is inviting the whole community to come along and enjoy a weekend of FREE entry and FREE activities on Saturday 15th and Sunday 16th November.
The Mammoth Free Weekend is celebrating everything that is great about Torquay Museum.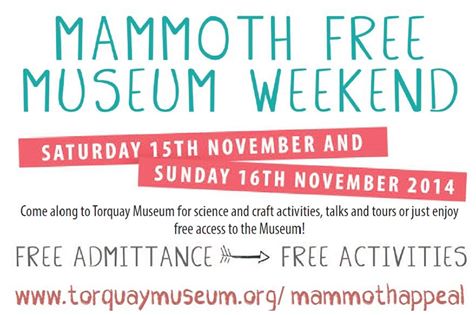 Visitors will be able to enjoy completely free entry all weekend and get involved with free activities suited to a range of different age groups.
The programme on Saturday includes an Ice Age Time Team drop in where amongst other things kids can get creative making early man shelters. There is a rare opportunity for young people to go Behind the scenes on our Museumologists Tour and a more serious tour of the stores for ages 16 and over with our Collections Manager who has over 20 years expertise of our collections. The day will be topped off with a Queen of Crime social quiz celebrating the world's only permanent Agatha Christie Gallery in Torquay Museum.
On Sunday kids can come along and Make a Mammoth Mess with craft activities, puppet making and cave painting, they can join Captain Caveman for a whirlwind Prehistoric tour and the adults can enjoy a workshop sketching still life from artefacts in the museum's collections and another opportunity to go behind the scenes on a tour based on the fascinating work cataloguing and conservation of our collections.
Although free, some of the activities have limited spaces and so booking is recommended. Call 01803 293975 to book your place.
The Mammoth Free Museum Weekend is part of The Mammoth Appeal for Torquay Museum. The appeal was launched last month with the aim of raising vital funds for Torquay Museum as they work hard to build a sustainable financial future. The aim of the free museum weekend is to encourage all those who haven't visited to come along, enjoy the exhibits, get involved with activities and find out more about the extensive work that the museum does in conserving local heritage.
Basil Greenwood, Museum Director said; "Torquay Museum's 'pay once get in free for a year' policy means that the museum is truly accessible to the whole community. Our regular free activities inspire learners young and old to explore the world around them. However, Torquay Museum is a local charity and it costs us £250,000 every year to conserve our collections, remain open to the community and enhance the museum experience with meaningful events and activities. We find this from admission income, gift shop income and grants but we also need public support."
For a full programme of events for the weekend and more information about the appeal go to www.torquaymuseum.org/mammothappeal