Thanks to a substantial donation of £110,000 from Torbay Hospital League of Friends, patients with gallstone disease from Torbay and South Devon are the first NHS patients in the UK to benefit from state-of-the-art bile duct exploration equipment, including a high definition videoscope.
Patients with gallstones that have found their way into the bile duct can now have a 'one-stop-shop' treatment where their gallbladder can be removed and bile duct cleared at the time of surgery rather than having two or more separate procedures, resulting in a much improved patient experience.
Gallstones are small stones that form in the gallbladder and are usually formed from excessive levels of cholesterol or calcium deposits.  In most cases they do not cause any symptoms and do not need to be treated, but larger ones can be extremely painful and are a common problem.  Each week around 10 to 12 people are admitted to Torbay Hospital with gallstones, the majority of which are contained within the gallbladder and can be treated by removing the gallbladder alone.
However, when gallstones lodge in the bile duct they can cause more serious problems such as obstructive jaundice or acute pancreatitis, requiring emergency treatment. As Upper Gastrointestinal Consultant and General Surgeon, Stuart Andrews explains:
"The bile duct is a very important tube and if it becomes blocked, serious complications can arise.
"Before this equipment was donated, if a gallstone was found in a patient's bile duct, they would need to go through a second procedure; an endoscopy, and then move on to surgery at a later date.  However, for some patients endoscopy is not suitable as it is not possible to access the bile duct and this new equipment provides a back-up for such situations.
"An Ultrasound probe has also been provided by the League of Friends which improves the efficiency of gallbladder surgery and this will reduce waiting times for surgery.  We are hugely grateful to the League for this donation."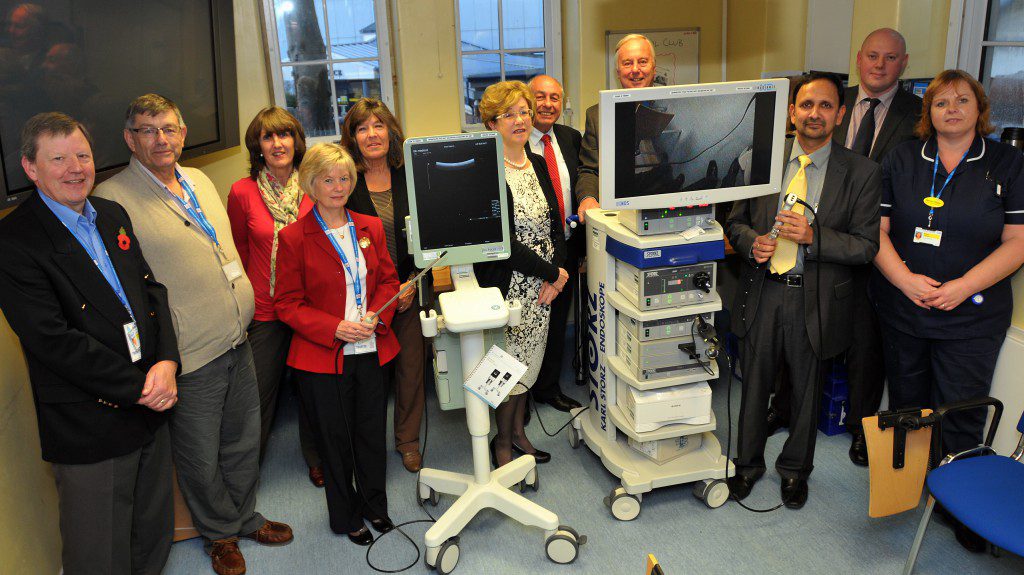 It is estimated that this new equipment will be used on a regular basis at Torbay Hospital and will be particularly useful for emergency situations, for example patients who are extremely jaundiced.
David Rogers, Chairman of Torbay Hospital League of Friends, said:
"The League is delighted to have funded this highly sought after equipment.  It will enable our doctors to provide a broader range of options to local patients and a better service in dealing with gallbladder and gallstone problems, which are increasing year by year.  By enabling surgeons to carry out a single procedure instead of two or more, the equipment significantly improves patient care."
The Trust sees approximately 300 patients a year with gallstones, ranging from patients as young as 14 up to about 90.  The number of patients presenting with gallstones problems is increasing and this equipment helps the Trust prepare for the future.