(Last Updated On: April 18, 2014)
[fblike style="button_count" showfaces="false" width="450″ verb="like" font="arial"]

Good Friday walks of witness took place across the Country today.
We Are South Devon went along to the one in Torquay. Starting at the town Hall at 12.30pm, hundreds of people walked through town to Princess gardens.


The walk is organised by Christians Together and involves all of the  churches in Torquay.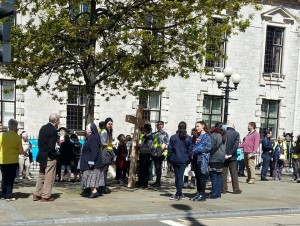 Did you attend a Good Friday walk of Witness? If you would like to submit a photo from Torquay or any other South Devon town, you can email us here wearesouthdevon@gmail.com
Error: Your Requested widget "Facebook like box (jetpack) " is not in the widget list.
[do_widget_area sanfrancisco-default-sidebar]

[do_widget id="media_image-29"]
[do_widget id="media_image-40"]
[do_widget id="media_image-38"]
[do_widget id="media_image-18"]
[do_widget id="media_image-28"]
[do_widget id="media_image-36"]
[do_widget id="media_image-42"]
[do_widget id="media_image-23"]
[do_widget id="media_image-31"]
[do_widget id="media_image-41"]
[do_widget id="metaslider_widget-2"]

[do_widget_area widgets_for_shortcodes]
[do_widget_area wp_inactive_widgets]

[do_widget id="search-2"]
[do_widget id="search-4"]
[do_widget id="archives-11"]
[do_widget id="nav_menu-3"]
[do_widget id="archives-4"]
[do_widget id="archives-6"]
[do_widget id="text-2"]
[do_widget id="text-39"]
[do_widget id="categories-3"]
[do_widget id="recent-posts-2"]
[do_widget id="archives-2"]
[do_widget id="recent-comments-2"]
[do_widget id="categories-2"]
[do_widget id="meta-2"]
[do_widget id="eu_cookie_law_widget-2"]
[do_widget id="eu_cookie_law_widget-3"]