(Last Updated On: June 27, 2014)
[fblike style="button_count" showfaces="false" width="450″ verb="like" font="arial"]
Green star man was out and about last night, Corbyn head in Torquay was given a starry makeover…

There was speculation on social media that the green star man had been arrested, it seems more likely that Green star man had a chat with the police and was left to continue 'starring'
So after the hype on social media re. the police, what was the Green ones response?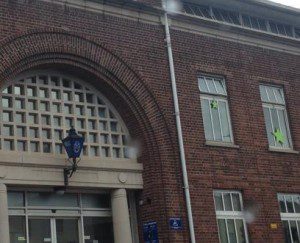 So, did the green man scale Torquay police station walls or have the police hung the stars from the windows themselves?
What are the green stars all about? We are guessing it is charity related. Great publicity! And we look forward to find out more.
As we all know the 'pineapple' has been moved (See more: https://wearesouthdevon.com/torbay-pineapple-found-home-temporary/)  but the green stars remain, I think everyone agrees that it has been improved by it's starry makeover. Here is it is prior to it's move: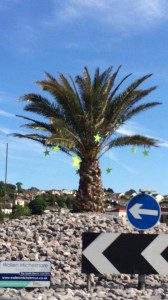 So, what do you make of it all? Join us over on facebook and share your thoughts with us

Error: Your Requested widget "Facebook like box (jetpack) " is not in the widget list.

[do_widget_area sanfrancisco-default-sidebar]

[do_widget id="media_image-29"]
[do_widget id="media_image-40"]
[do_widget id="media_image-38"]
[do_widget id="media_image-18"]
[do_widget id="media_image-36"]
[do_widget id="media_image-44"]
[do_widget id="media_image-43"]
[do_widget id="media_image-23"]
[do_widget id="media_image-42"]
[do_widget id="media_image-31"]
[do_widget id="media_image-28"]
[do_widget id="media_image-41"]
[do_widget id="metaslider_widget-2"]
[do_widget id="metaslider_widget-3"]

[do_widget_area widgets_for_shortcodes]
[do_widget_area wp_inactive_widgets]

[do_widget id="search-2"]
[do_widget id="search-4"]
[do_widget id="archives-11"]
[do_widget id="nav_menu-3"]
[do_widget id="archives-4"]
[do_widget id="archives-6"]
[do_widget id="text-2"]
[do_widget id="text-39"]
[do_widget id="categories-3"]
[do_widget id="recent-posts-2"]
[do_widget id="archives-2"]
[do_widget id="recent-comments-2"]
[do_widget id="categories-2"]
[do_widget id="meta-2"]
[do_widget id="eu_cookie_law_widget-2"]
[do_widget id="eu_cookie_law_widget-3"]