I am very pleased to say we have launched this great event for 2015, our website is now up and running and the online entry system is ready to take your entries from 2pm Weds 18th November, join us for this fantastic new event.
The event has two options the first is a 53 mile run from Exeter Quayside to Babbacombe Downs via Berry Head.
The second a 23 mile run or walk from Exeter Quayside to Babbacombe Downs.
The route is stunning and hard to beat for the scenery and the places it passes through.
On Babbacombe Downs as well as the finish line, we will have a race village and family fun day open to all, with stalls, family entertainment, family games and live music. This is going to be a great day out for all the family.
For more details:
THHN City to Sea 53 Event Sponsors

The event is a fundraising event and to help us raise as much as possible to help give families memories to treasure forever, we are looking for event sponsors. So if you have a company that would be interested in sponsoring part of the event; please email cts53@thhn.co.uk  and we will send you the sponsorship packages, they range from just £100 upwards.
Christmas Sparkle Day
We were very lucky to be invited to have our stand in Lower Union Street on Saturday for the Christmas event, our hard working volunteers put on children's games, with the most popular being Hook a Duck and a tombola for all to play. They raised a fantastic £307.50 on the day.
Torbay Half Marathon THHN Fun Run & Schools Challenge 2015
We are delighted that after entering a big team in the fun run at this year's Torbay Half Marathon in June, Torbay Athletic Club has asked if we would like to organise the fun run in 2015, to help us raise funds. We have gladly accepted and are working hard on the details for the run next June.
We are also working on a schools challenge to take place at the Half Marathon, the challenge is for the pupils to run a half marathon, wait don't panic, they get to run the first 12 miles in the 12 weeks leading up to the event, then on the day of the Torbay Half Marathon they get to run the final mile along the actual half marathon course.
Our mascot Memory Maker Man will be making an appearance like this year.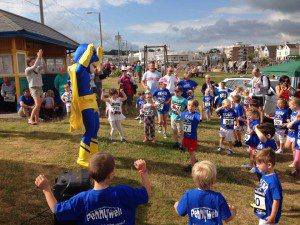 More details will be available soon.
The THHN Memory Maker shop
Our new Memory Maker shop will be opening soon in St Marychurch the team are working hard getting it all ready to open. They took a day off to put on children's games in St Marychurch when Peppa Pig came to visit. A great time was had by all.
It is with thanks to the many fantastic volunteers that we have that enables us to help so many families.
You can find out more about THHN at:
www.facebook.com/torbayholidayhelpersnetwork
Twitter: @thhn2 and @brianthhn