Torbay Holiday Helpers Network

Who we are:
We are a charity based in Torquay, we give free holidays to families with seriously ill children, families with a terminally ill parent and recently bereaved families. We are a network of accommodation providers, tourist attractions, suppliers, cafes, restaurants and more. All the businesses in the network provide their services for free; this enables us to give the families a free action packed holiday to remember. We help families from all across the UK including local families.
Our aim is to give the families memories they will treasure forever.
Where needed we help the families with travel grants as sometimes they simply cannot afford to pay for the travel themselves. Sadly at this time we sometimes have to turn families away if they require specially adapted accommodation, as we don't have access to anything suitable, we really hate to do this as we believe we should be able to help every family that is referred to us.
Which is why we launched our Memory Maker bungalow project, the aim is to build a fully adapted bungalow that any family can use, so we never have to face the heartache of turning a family away. The bungalow would be specially adapted with wide corridors, no steps, purpose built bedroom including adapted bed with bed hoist with an en-suite wet room and much more.
New Event for 2015:

Our founder and trustee Luke Tillen in the past has taken part in some Ultra Marathons, the last being a 100 mile run along the Thames from London to Oxford, after the event many people asked why THHN didn't hold a similar style event, so the THHN City to Sea 53 was born.
The event has two options the first is a 53 mile run from Exeter Quayside to Babbacombe Downs via Berry Head.
The second a 24 mile run or walk from Exeter Quayside to Babbacombe Downs.
The route is stunning and hard to beat for scenery and the places it passes through.
On Babbacombe Downs as well as the finish line we will have a race village and family fun day open to all, with stalls, family entertainment, family games and live music.
The event will be launching very soon.
For more details and to hear when the event will launch head to:
If you have a company that would be interested in sponsoring part of the event, would like to donate items for the event, would like a pitch on the day or if you are a band or music act that would like us to consider them for the day then please email fundraising@thhn.co.uk
Fundraising:
You may be wondering who is writing this, well my name is Brian and I am the Fundraising Manager for THHN, I have been involved with the charity for over two years. This year I took up running and have run a couple of 10K's and a Half Marathon all to raise funds for THHN. We have our very own Facebook group for all our runners, where they can chat, talk about upcoming events and arrange training runs with each other. You may have spotted groups of THHN runners out on a Sunday evening for a weekly training group run.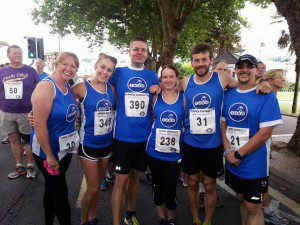 Cockington Apple Day:
On Sunday 19th October THHN volunteers took our gazebo to the Cockington Apple Day, they ran a very successful Tombola at the event and raised £149 for THHN. A big thank you to all the volunteers.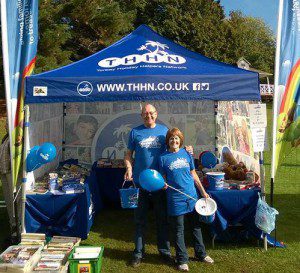 You can find out more about THHN at:
www.facebook.com/torbayholidayhelpersnetwork
Twitter: @thhn2 and @brianthhn