(Last Updated On: July 15, 2014)
[fblike style="button_count" showfaces="false" width="450″ verb="like" font="arial"]
I am writing this blog to share with you a life changing journey that has been thrust (no pun intended) upon me which has changed our lives from the minute we found out and will continue to change our lives forever. It's a happy change but a blinking scary one! I've started this a few weeks later than I planned so I'll do a few extra posts to catch up to where I am today!
Before I start I just want to highlight I'm not a writer, I will aim to keep my typos, grammatical and spelling errors to a minimum, foolishly at school I was more interested in being the class clown, selling individual fags and being a bit of an idiot in general. If only I knew then what I know now! Here's to hoping Microsoft Word can fix my errors!
This blog is about my pregnancy… a pregnancy with a bit of a difference!
A little introduction to my family and me….. I am Melanie I prefer to be called Melanie everyone calls me Mel! My husband Martin, he is now called "Big Balls" at work and a few other names! And our Daughter Tia, she is 12 and is in year 7 of secondary, she is funny, beautiful and a going through that "phase". You know? That Kevin and Perry phase! We are a family of practical jokers, wind up merchants. We don't take life to seriously and we just get on with whatever life throws at us.
At the end of last year, around October we decided to go for it, let's have a baby! I booked and had my implant removed. For any ladies reading this you will know it's not the most pleasant of experiences!  Without going into too much detail we kind of just carried on with "business as usual" we decided if I got pregnant then fine if not then… well I don't know, we hadn't really thought any further ahead than that!
On Valentine 's Day this year I was feeling pretty rubbish, I took a walk into town. I was heading for Boots! Martin called me just before lunch time to say he had been rained off at work (builder) so we arranged to meet in town and go get a valentines lunch. We headed in to The Thai Garden and I nipped to the bathroom and promptly used what I had bought in boots! I came out of the loo a few minutes later and sat with Martin. I couldn't contain myself. I whipped out my phone and handed it to him, id taken a picture of the positive pregnancy test (I thought it was best to give him the picture instead of the pee stick, mostly because we were about to eat). We couldn't keep the smiles off our faces!
When I got home I called the doctors arranged the midwife appointment and after seeing her had my first scan booked for 26.3.14.
Leading up to the scan date I got more and more pregnancy symptoms, oh my days the sickness was/is horrendous! Morning noon and night! I couldn't keep anything down and i had my fair share of embarrassing sickness moments! My most embarrassing was mid conversation with my friend Sharon, no warning, no feeling of sickness just all of a sudden projectile vomiting in the middle of a bit of a gossip. The sickness got worse and worse, I couldn't go near the kitchen, the smell of any food made me vomit. The toilet became my new best friend, I'm not a hugging type of person but my new bessy mate was getting several hugs a day :-). Pregnancy is not a glamorous time and the excessive force from the sickness causes a few other not so pleasant/unhappy accidents.
I kept having an overwhelming feeling something about this pregnancy was very very different to my pregnancy with Tia! Everyday leading up to my 12 week scan I was convinced I was about to get some shocking news!
Finally scan day has arrived. Me, Martin and Tia got into our little car and made our way to Torbay hospital. I was excited but also very nervous, the journey to the hospital takes 10 minutes but it felt like it took hours, the 20 minute wait at the hospital dragged!
When we got into the scan room nothing could of prepared us for the news we were about to receive and when the sonographer hit us with the news it took Martin 10 minutes to pick his jaw off the floor and me 10 minutes to stop looking for hidden cameras and asking who had set us up, Tia just shook her head at us, she seemed to be the only one of us that could process the information!
TRIPLETS!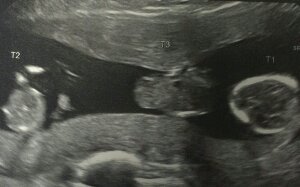 Click here for-
Part 1:
https://wearesouthdevon.com/guest-blog-what-a-shock/…
Part 2:
https://wearesouthdevon.com/shock-pregnant-triplets-part-2/
Part 3:
https://wearesouthdevon.com/shock-pregnant-triplets-part-3/
Part 4:
https://wearesouthdevon.com/shock-pregnant-triplets-part-4/
Part 5:
https://wearesouthdevon.com/shock-pregnant-triplets-part-5/.
Error: Your Requested widget "Facebook like box (jetpack) " is not in the widget list.
[do_widget_area sanfrancisco-default-sidebar]

[do_widget id="media_image-29"]
[do_widget id="media_image-40"]
[do_widget id="media_image-38"]
[do_widget id="media_image-18"]
[do_widget id="media_image-46"]
[do_widget id="media_image-47"]
[do_widget id="media_image-23"]
[do_widget id="media_image-42"]
[do_widget id="media_image-31"]
[do_widget id="media_image-28"]
[do_widget id="media_image-41"]
[do_widget id="metaslider_widget-2"]
[do_widget id="metaslider_widget-3"]

[do_widget_area widgets_for_shortcodes]
[do_widget_area wp_inactive_widgets]

[do_widget id="search-2"]
[do_widget id="search-4"]
[do_widget id="archives-11"]
[do_widget id="nav_menu-3"]
[do_widget id="archives-4"]
[do_widget id="archives-6"]
[do_widget id="text-2"]
[do_widget id="text-39"]
[do_widget id="categories-3"]
[do_widget id="recent-posts-2"]
[do_widget id="archives-2"]
[do_widget id="recent-comments-2"]
[do_widget id="categories-2"]
[do_widget id="meta-2"]
[do_widget id="eu_cookie_law_widget-2"]
[do_widget id="eu_cookie_law_widget-3"]