(Last Updated On: December 6, 2014)
Update (6th December): The suspect was not found.
There was a search on 29th November after a man was acting suspiciously and on the 27th November when a young woman was followed: https://wearesouthdevon.com/police-appeal-witnesses-young-woman-followed/
Police in Newton abbot have been out searching for an intruder this evening.
Police on the ground were joined by the police helicopter.
An intuder was disturbed in the garden of a private property.
@NPASExeter tweeted: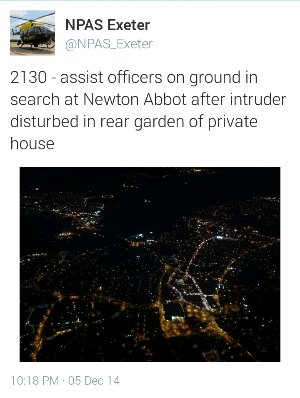 They also posted an aerial shot of Newton Abbot.
There is no update as to whether the intruder was caught.
Locals have stated there has been a high police presence in the town with a large number of police and police dogs joining in the search.
For up to date news from around South Devon, please join us on Facebook:
Error: Your Requested widget "Facebook like box (jetpack) " is not in the widget list.
[do_widget_area sanfrancisco-default-sidebar]

[do_widget id="media_image-29"]
[do_widget id="media_image-40"]
[do_widget id="media_image-38"]
[do_widget id="media_image-18"]
[do_widget id="media_image-36"]
[do_widget id="media_image-44"]
[do_widget id="media_image-43"]
[do_widget id="media_image-23"]
[do_widget id="media_image-42"]
[do_widget id="media_image-31"]
[do_widget id="media_image-28"]
[do_widget id="media_image-41"]
[do_widget id="metaslider_widget-2"]
[do_widget id="metaslider_widget-3"]

[do_widget_area widgets_for_shortcodes]
[do_widget_area wp_inactive_widgets]

[do_widget id="search-2"]
[do_widget id="search-4"]
[do_widget id="archives-11"]
[do_widget id="nav_menu-3"]
[do_widget id="archives-4"]
[do_widget id="archives-6"]
[do_widget id="text-2"]
[do_widget id="text-39"]
[do_widget id="categories-3"]
[do_widget id="recent-posts-2"]
[do_widget id="archives-2"]
[do_widget id="recent-comments-2"]
[do_widget id="categories-2"]
[do_widget id="meta-2"]
[do_widget id="eu_cookie_law_widget-2"]
[do_widget id="eu_cookie_law_widget-3"]