(Last Updated On: March 17, 2014)
[fblike style="button_count" showfaces="false" width="450″ verb="like" font="arial"]
Our local shopping-hotspot [as described in previous articles] is gradually experiencing it's own midlife meltdown – and it's not just the stores either.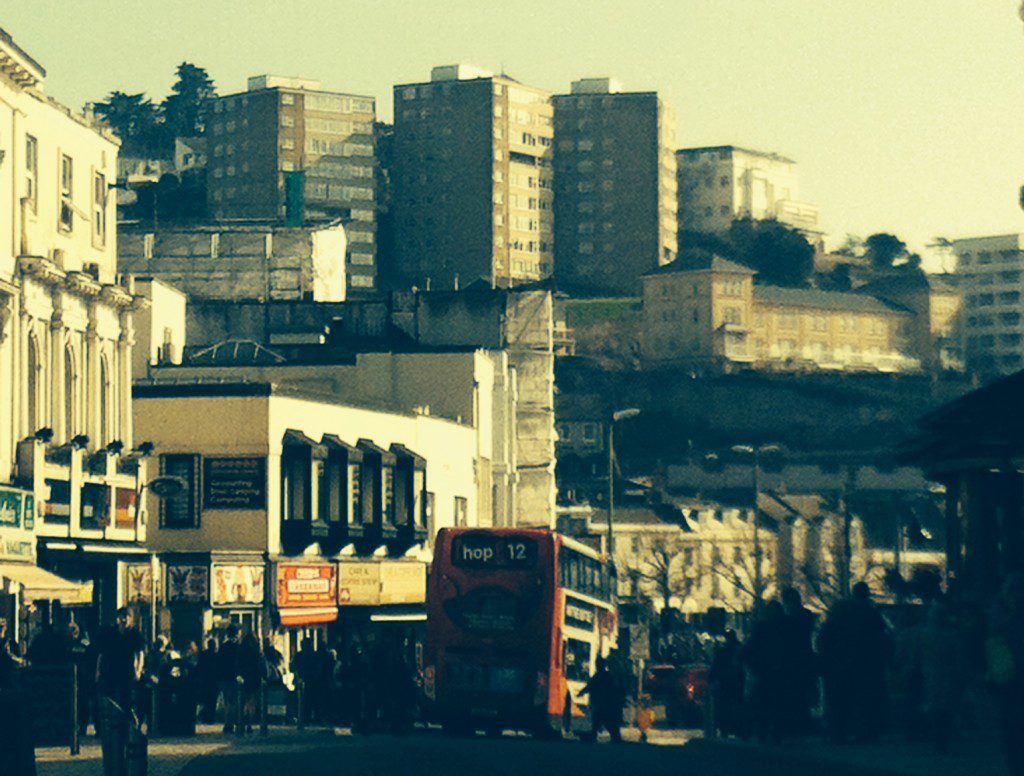 As many of the public have noticed, when walking past The Strand in Torquay late at night there are consistently 5 or more homeless people begging for change – but is it really all about the stereotypical drugs scenario that leeds them to be in the situation they find themselves now?
After a lot of research, I can proudly report that 95% of the homeless people I have spoken too have not ended up in their current positions by drug abuse.

"…but finally after proving to the council that I won't mess up, I have a flat and a source of income". 
ANONYMOUS [1]: "I was homeless for a long time, over a year I've stood here asking people for a couple of pence to help my financial situation – I use this money to help pay my way and to send gifts up to my children in Scotland. A lot of the public are very helpful and lately, the Council have been too. It took me a while, but finally after proving myself to the Council that I won't mess up, I have a flat and a source of income".
After speaking to this homeless man today and from past endeavours with him, it is definite to say that he is a very bubbly and lively character who is struggling with life and just trying to seek some help. However, what other help can be provided for them through Torbay Council, the Police and the Street Pastors?
Street Pastors
If you live in Torbay or visit the nightlife occasionally, you will either have witnessed the Street Pastors in action or even had been provided with some help from them. Torquay's Street Pastor's are an organisation set up by Upton Vale Church who set out late at night with other volunteers to help party goers. They run their charity to help young & drunk people as well as comforting homeless people in a small van down along the harbour side. The Pastors start working late in the evenings, through to the early the early hours of the morning, giving away cups of water, a friendly hand and selling flip flops, tin foil and other paraphenalia to members of the public for a small donation. With the money the Pastors make from the night, they use a portion of it to buy a hot drink for the homeless people from Torquay's local twenty-four hour Subway located on the Harbour side. The organisation is based on volunteer work and these helping people perform free of cost. They also landed themselves a Devon BCU Award for Inspiring Confidence by the Devon & Cornwall Police Force.
"The only people who really help me are the public".
Jay, [age unidentified]: "I always used to stay in the backpackers lodge up in Torre. It's around seven pounds a night for most of the rooms, so I used to spend my days asking people to spare some change, it was very embarrassing. I am so thankful to those who helped me and understand my situation. The only people who really help me are the public. I haven't received any help from the Council, but I've heard they have a pretty good system for people in need and I should have looked into it. I don't drink and I don't take drugs, the reason behind my situation is quite personal and I would like not to discuss any details, however, my life is looking up. I started my new job last Saturday – fixing roofs. It's about fifty pound a day for six hours work, from here I hope to save up some money and get my life back on track".
By law, it is illegal for anyone to beg for change in the street. Countless homeless people have said that it really is the only thing they can do to help improve their lives. Torbay Council have what looks like an excellent system called the Free Advice Service – the idea is to provide advice for homeless people and give them their options, from this point they can then start choosing between the appropriate choice for them to prevent being homeless. Depending on the circumstances, a list of services and helplines will be given to the citizen, meaning they can start working on sorting their lives for the better, yet some of these people have never heard of the line.
"I have no choice". 
ANONYMOUS [2]: "I hope to someday get back to my hometown in Blackpool. I sleep under shelters on the Pavillions green and bus stops late at night. I find that members of the public can be very rude, but a lot of the time they can be friendly and quite helpful, I feel ashamed that I have to beg, but I have no choice. The police constantly tell me to move on and I am often seen as disgusting. I just want to sort my life out, but every time I try, I am kicked back to square one".
Unfortunately, from what we have seen the Council do not provide enough help for these people and are quite unreliable on what they promise. The Advice Service is a great idea, but not enough people know about it or don't know how to seek this service, especially if they have no phone or internet access. Are the Council really doing enough to help the less fortunate, or is this just another pointless service set up to make the local councillors look good. If the advice service was as helpful as the council suggests, we wouldn't be seeing the high number of homeless people spending the night in the cold each and every day.
We would love to know what you feel the council are doing to help the homeless and how they can improve.
You can reach us at Facebook, Twitter or leave a comment below.
[button link="https://twitter.com/GemmOConnor" style="info" color="teal"]Follow Writer[/button]