(Last Updated On: March 29, 2014)
[fblike style="button_count" showfaces="false" width="450″ verb="like" font="arial"]
We have been looking at homophobia in South Devon following an incident involving a member of our team. We asked if homophobic incidents were a regular occurrence and if people knew how to report hate crimes and felt confident in doing so?
You can read the full article here: https://wearesouthdevon.com/homophobia-in-south-devon-is-it-a-problem-2/
We received a number of emails regarding this, here are some of them –
"A few years ago, when I was in my early 20's, a friend and I were once approached in town (Torquay) by a group of men calling us 'fags' (My friend and I were linking arms, he is straight) As they got closer they realised I am female. I thought this would be the end of it. I was wrong, one of the men said 'If you think you're a man, c'mon then!' He held his fists up and gestured for me to come forward. I am size 10 woman, he was a tall stocky bloke. It must have been a ridiculous sight, even his friends looked horrified BUT he continued…and they only made feeble attempts to stop him. He attempted to hit me but fell over in the process (He was intoxicated) My friend and I ran away. I never reported the incident, I didn't feel that it would be taken seriously and I didn't want the repercussions of reporting such a man incase we crossed paths again and I just wanted to forget about it"
Another..
"The following has taken place in the last 12 months in Torquay, and comes from my personal experience. I am perhaps obvious as a gay person, but my partner is extremely masculine. However, if we feel like it we will hold hands in public. My partner and I used to frequent a bar with live music near to the harbour, we became regulars and enjoyed the atmosphere. Two men in their 60's or 70's used to make a habit of just staring at us, when ever I looked up one in particular would continue staring,  unblinking and when I met his stare, he would not look away. Every time I looked up he was there; continuously staring at us like some exhibit in a zoo. This went on week after week – sadly the bar staff must have noticed and said absolutely nothing about it. A few weeks later we were in another bar and the same bloke stood at the bar just a few feet away glaring at us all night. Again the staff must have been aware of what he was doing and said nothing. I tried staring back, but he just carried on, stony faced, unblinking and very intimidating. I guess I could have gone over and asked him what his problem was, but that would have been me causing trouble. I could have complained to the bar staff but what was I to say? "That man is looking at me funny", it sounds really petty, but it wasn't – no straight couple would be glared at in a public place. We now avoid these two pubs. If anyone thinks that this is petty, then they have never been stared at like some sort of exhibit all night, by an old git with no manners or respect. Also in the bay recently a gang of lads came into the bar, one came straight over to me and my partner, and uninvited he put his arms around us, lifted up his phone and took a picture of us together. He didn't ask if it was alright or if we minded, then laughed – and said he had just won a bet, his mates said that he didn't dare have his picture took with the queers in the corner.  Again having a drink in a bar, a group of lads came in, ordered some drinks, and then spotting me, one of the blokes said to his mates really loudly… "fucking hell this is a fucking gay bar?" They put their drinks down and walked out. Another time (again in the bay) a group of lads sang the song "we're going to a gay bar, gay bar, gay bar" whilst bouncing up and down all looking in our direction. Finally more interestingly, we were in the 80's bar and two guys started to take the piss out of us, looking over and then laughing. acting very camp, prancing about, touching each other and then grabbing each other's privates clearly taking the piss out of us. This went on for some time and we just ignored them. Then still taking the piss, one turned around to his mate and without warning snogged him, much to his surprise. His mate snogged him back and then they both kind of got into it and the snogging went on for quite a while – until that is the girlfriend of one of them came back from the toilets. They hadn't even noticed she had gone but she forcefully pushed them apart then slapped her boyfriend around the face and stormed off alone.  I sometimes wonder if homophobic people are perhaps hiding something. I have to say these are isolated incidents and mostly there is a positive reaction in the bay, most people don't really care and others have become good mates. SOHO particularly has become a really cosmopolitan bar, probably the most welcoming in the bay. To be out means that things are said, things are done, and it does cause a scene in the straight bars – mostly drunk guys in gangs."
And another..
"I have had homophobic insults shouted at me on a number of occasions, since I have never been threatened with violence or actually attacked, I have not felt the need to report it. Maybe as gay people we accept that homophobia as a part of being gay? Sad really. Discrimination of any kind is unnecessary"
Homophobic crimes and incidents reported – 01/04/2013 to 28/02/2014 in South Devon (including Torbay)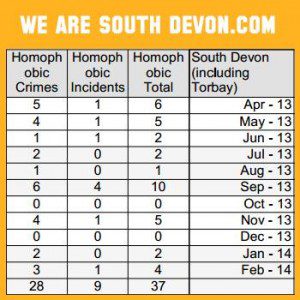 19 of the  homophobic incidents/crimes reported within this period of time were in Torbay.
Over in North and West Devon there was a total of 15.
Other hate crimes/incidents showed the following totals within the above time frame in South Devon (inc Torbay)
Racism – 187
Disablist – 23
Transphobic – 15
How does this compare with the previous year? From 01/04/2012 to 31/03/2013 there were a total of 31 homophobic crimes/incidents reported in South Devon (Inc Torbay) with 19 of them being in Torbay. And over in North and West Devon there was a total of 11.
Is this a true reflection – Are hate crimes being reported?
We spoke to PC Kevin Mason (Diversity Officer, Devon and Cornwall Constabulary) PC Mason told us that reporting hate crimes is very important, the police cannot act if they do not know that an incident/crime has occurred. He also explained that there are a number of ways to report crimes:
By phone
Call 101  or in an emergency dial 999
Call Crimestoppers anonymously on 0800 555 111.
In person
Visit your local police station
Online
Have you got something to say about homophobia or any other hate crime? You can contact us here or on our facebook page (See below)
You can also comment below (Scroll down the page to view comments)
[do_widget "Facebook like box (jetpack)"]