The  Transport Services Team from South Devon Healthcare NHS Foundation Trust handed over a Cheque for £752 to Torbay Prostate Support Association (TPSA) this month.
Andrew Knowles, Transport Services Manager at Torbay Hospital said:  "Our department once again entered the annual Pedal Car Grand Prix, organised by the Babbacombe and St Marychurch Rotary Club.  The event took place on 20 July 2014 on Torre Abbey Meadows and, as ever, was well supported by teams and spectators.
"The team came a very respectable fourth place, raising a total of £752.00.  We donate to a different local charity each year, and this year we were very proud to be able to donate all monies raised to the Torbay Prostate Support Association."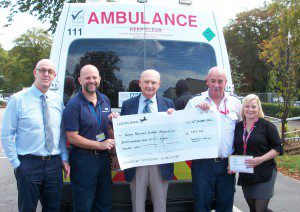 Peter Hosking, Chairman of the TPSA, said: "Torbay Prostate Support Association is extremely grateful to the Transport Services Department at Torbay Hospital for their hard work in raising £752 from their participation in the Pedal Car Grand Prix in Torquay this summer.
"Their contribution will most certainly go towards a new project we are preparing for Torbay Hospital to receive very sophisticated computers to identify and target minute cancer tumours and substantially reduce the time taken at present from six hours to perhaps two hours in locating these tumours – thus enabling treatment to be far more accurate.  Thank you so much to everyone involved."