[fblike style="button_count" showfaces="false" width="450″ verb="like" font="arial"]
Hundreds of people went to Jake Stafford's Fun day today at Torquay Academy.
And fun was had by all!
The event, raising both awareness and funds was organised by Jakes Mum, Teresa Stafford and supported by businesses and individuals keen to raise enough money to be able to send Jake to New York to meet with Fibrolamellar Specialists at MSKCC and Researchers at The Rockefeller University.
Jake has a very rare form of cancer – Fibrolamellar Hepatocellular Carcinoma. There are only 200 cases approximately per year worldwide, it is thought there are only 6 people in Britain who are currently fighting this form of cancer. There is currently no cure.
Jake was also presented with a new wheelchair at the event to help assist him in the future.
Motocross star Ben Butler made a surprise appearance to present the wheelchair.
Green Star man (Known well in the area after a campaign to raise awareness of Organ donation. Read more here) went along to show his support with young Lottie who was the worlds youngest baby to receive a liver transplant. The families have grown close after a series of coincidences have led them to cross paths a number of times.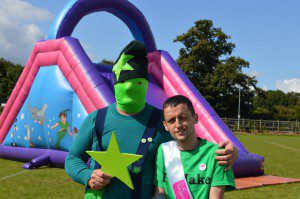 A sponsored head shave saw Molly losing her red locks live on stage. Molly you look great!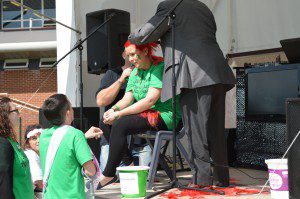 From a bucking bronco to holding Chinchillas  (aninalactivity.co.uk) there was something for everyone. Ricochet Road show provided music, Iggle Piggle and Hello Kitty popped by and had a little dance and The Miller Brothers entertained the crowds with their singing and moves.
Overall, a great day!
To find out more about Jake's journey:  http://www.fibrolamellar.co.uk/ or on Facebook
Want to donate? Even a small amount can make a big difference. Email info@fibrolamellar.co.uk
[do_widget "Facebook like box (jetpack)"]