(Last Updated On: July 27, 2014)
Further update here: https://wearesouthdevon.com/police-appeal-for-witnesses-after-paignton-crash/
King's Ash Road Paignton currently closed both ways between (B3060)Marldon Road/Churscombe Road (Churscombe Cross) and Higher Ramshill Lane.
Reports suggest that there has been a serious accident involving a car and motorbike.
Emergency services arrived the scene at around 3.15pm this afternoon.
An air ambulance has transported a casualty to hospital.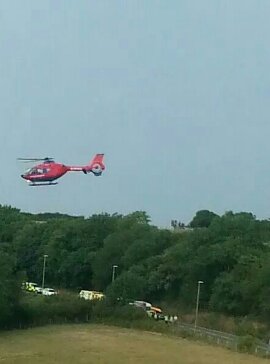 Diversion in operation.
Expect delays if travelling in that direction.
Keep up to date about what's happening around South Devon,
join us on facebook.

Error: Your Requested widget "Facebook like box (jetpack) " is not in the widget list.

[do_widget_area sanfrancisco-default-sidebar]

[do_widget id="media_image-29"]
[do_widget id="media_image-40"]
[do_widget id="media_image-38"]
[do_widget id="media_image-18"]
[do_widget id="media_image-36"]
[do_widget id="media_image-44"]
[do_widget id="media_image-43"]
[do_widget id="media_image-23"]
[do_widget id="media_image-42"]
[do_widget id="media_image-31"]
[do_widget id="media_image-28"]
[do_widget id="media_image-41"]
[do_widget id="metaslider_widget-2"]
[do_widget id="metaslider_widget-3"]

[do_widget_area widgets_for_shortcodes]
[do_widget_area wp_inactive_widgets]

[do_widget id="search-2"]
[do_widget id="search-4"]
[do_widget id="archives-11"]
[do_widget id="nav_menu-3"]
[do_widget id="archives-4"]
[do_widget id="archives-6"]
[do_widget id="text-2"]
[do_widget id="text-39"]
[do_widget id="categories-3"]
[do_widget id="recent-posts-2"]
[do_widget id="archives-2"]
[do_widget id="recent-comments-2"]
[do_widget id="categories-2"]
[do_widget id="meta-2"]
[do_widget id="eu_cookie_law_widget-2"]
[do_widget id="eu_cookie_law_widget-3"]