Exmouth RNLI were called out to a broken down fishing boat last night and returned in the early hours of this morning.
Shannon class lifeboat R and J Welburn launched at 7.44pm on 9 November to reports of a broken down fishing boat 10 miles south of Lyme Regis. The 26 tonne vessel with two people on board had mechanical failure and was drifting in the dark.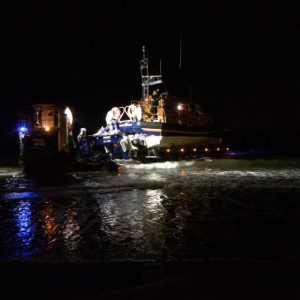 Crew volunteers arrived on scene at 8.49pm after travelling at a steady 20 knots in the dark on the state-of-the-art all-weather lifeboat. In Force 3 south-westerly wind conditions, the highly trained volunteers attached a tow rope and embarked on a long journey to Brixham, where the 25 foot crabber was registered. Leaving the casualty at 2.20am, R and J Welburn returned to Exmouth lifeboat station at 3am and was ready for service again at 3.35am.
Second Mechanic, Mark Sansom was on board;
'The casualty's engine had failed on them. They had managed to get it working again, but at a reduced rate. By the time we were on scene, it had failed completely. The size of the sea conditions had increased considerably, so we reduced our towing speed for safety reasons.'
Exmouth RNLI said on their Facebook page:
"Our volunteers only know briefest, (if any) of details when their pagers go off. It could be a quick inshore lifeboat job or an overnighter, We thank all our families, friends and employers for supporting us in our lifesaving role"
For the latest news and updates from around the area, join us on Facebook.
Want to join the team? Email us: admin@wearesouthdevon.com
[do_widget "Facebook like box (jetpack)"]