From a one-man band to a team of over 150 promoters, here's how Lee Griffin found himself on the map.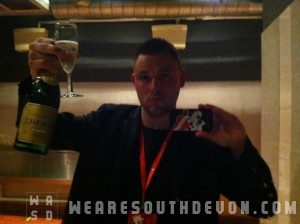 "We've Never Looked Back"
Lee Griffin. Griffin Promotions. Sound familiar? If you're from the bay, you have probably already worked for the company or have been stopped in the street by a promoter. However, no matter what you've heard about this ambitious, young entrepreneur; his success story is incredibly inspiring and he has become quite an influential character for young people across the country.
For those who aren't aware, GPUK is an ever-growing company set out to push a business forward, leading to a success that exceeds expectations without compromising the budget. But, being stopped in your path can't be all that bad.
Executive Assistant, Lauren Hooper said, "Working for Griffin Promotions helped me become a more reserved person and has also increased my confidence tenfold".
From the amount of abuse Griffin Promotions has had on Facebook, no one can rightfully dis-regard the fact that these promoters are well-motivated and ambitious people who are set out to make your life easier, and we're definite that some of the offers and services that they highlight for you can be of use – just like those £1.50 jaeger bomb tickets dished out late at night.
Not only is Griffin Promotions a great tool to use to increase the custom base for a business, it's always a great place for people who are looking for a job, to work and make a heap of money.
GPUK's ex Regional Manager of Torbay, Exeter and Taunton, Dave Perrin said, "Working for Griffin Promotions is a tough task sometimes, but regardless of this, it's the greatest job I have ever had. Working within a social environment helps businesses and I thrive off that. The results and the impact that we create are very rewarding".
"I always knew I could do something a lot better than what I was doing, I wanted to be paid for the way I am".
Lee Griffin was seventeen when a football colleague – Glenn employed him. He was too young to work behind the bar, which was something he really wanted to do, so he was put out on promotions.
When he was finally old enough, Lee went onto work and manage other bars across Torquay, but he started to miss promotions.
After getting tired of being the handy-man of Play Nightclub, he asked the manager if he could go out and do the promotional work, embarrassing every other promoter along the strip.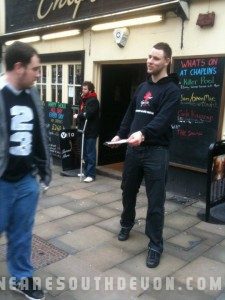 After about a year of promoting for Play Nightclub, he had been spotted by Bohemia [another club in the Bay], so he began doing promotional work for Bohemia, whilst partaking in a huge turf war against the Mambo's promoter, flyering against each other and ripping down each other's posters. As Lee Griffin looks back on this memory, he says, "It was quite funny really".
Lee Griffin then found himself being employed by the company Lifestyle [the company behind Mambo's] and working his way up through the ranks to becoming their Marketing Manager.
Unfortunately, Lee was dismissed due to the company not being able to afford and tangibly measure what he was doing and the results he was getting through the doors – this was a price they could not justify.
Yet, instead of giving up, Griffin found himself playing on this and set up Griffin Promotions in November 2010.
Almost four years later and Lee Griffin finds his team and him promoting big national firms such as Go Mobile, Walkabout and Subway. As well as smaller businesses, such as clubs, pubs, restaurants, festivals, markets, specs-stores and more, all the way up to Cheltenham and Bath and down towards South Falmouth. Lee Griffin has well and truly found himself on the map.
When he loses hours, he gains them elsewhere.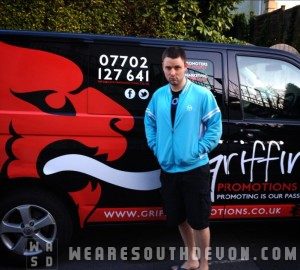 Griffin has very high hopes for the future; he is looking for a Griffin Promoter in almost all towns and cities in the UK and hopes to one day, become international.
 "I was sacked from previous jobs such as Warren's and Tesco's because I was unmanageable".
You can find Lee's full story in the recording below, as well as his Facebook Page and Twitter.
GriffinPromoUk
https://www.facebook.com/Griffin.Promo.UK?fref=ts
If you're interested in becoming a Griffin please follow the link below, but you must be 18+.
If you're looking for a tool to help your company bloom, please message the Facebook page for info.
http://www.griffinpromotions.co.uk/jobs
[button link="https://twitter.com/GemmOConnor" style="info" color="teal" window="yes"]Follow Writer[/button]