The 2014 Lifeboat Ball which took place on 4 October at the Exmouth Pavilion, amassed £5,040.16 through ticket sales, raffle and a prize auction. The successful event was organised by a committee of Exmouth RNLI Crew volunteers' wives and girlfriends.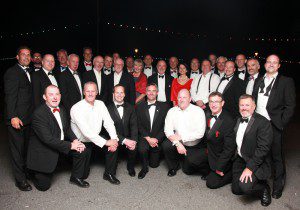 The event was intended as a celebration after a period of intensive training on the Shannon class lifeboat R and J Welburn. Although the weekly exercises aboard the all-weather lifeboat continue throughout the winter months, volunteers had been training at sea for between 10 and 14 hours a day, after the arrival on 9 May. As only the second RNLI lifeboat station and the first in the south west to receive this state-of-the-art Shannon class lifeboat, volunteers are committed to the charity's essential training at both the Lifeboat College at Poole and in Lyme Bay.
A small committee consisting of Crew volunteers' wives was set up in the summer to organise the event. Ticket sales were so successful, there was a waiting list only a week after they went on sale to the public. The committee approached local businesses for auction prizes and attracted generous donations from local companies: FlyBe flights, Exeter Chiefs tickets, River Cottage cookery school, Angela's fish restaurant, River Exe Café, and a painting by local Artist, Mark Loman of the Lifeguard hut. The Auctioneer for the evening was Hugo Swire MP who motivated the guests to raise over £2,100.
Exmouth RNLI Coxswain's wife, Louise Hockings describes how the lifeboat volunteer lifestyle effects the whole family
'As wives of the crew volunteers, we have accepted that you can never make plans when on duty. It's not easy being the ones picking up the pieces after the pagers go off and you can't be sure when they'll return home. Our husbands, partners and friends have been through an incredibly intensive period this year, training on our new Shannon class lifeboat R and J Welburn and we wanted to reward them with a big party. Thank you to everyone who helped raise this incredible amount which will contribute towards saving lives at sea in Lyme Bay.'