Zoo keepers at Living Coasts have stepped in to feed a new-born seal pup.
Mum Grace has been unable to produce milk to feed her youngster, so keepers have had to help out – by feeding the pup fishy milk shakes!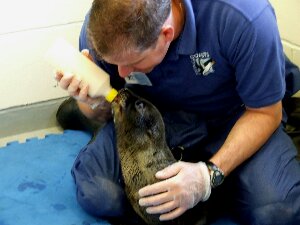 Living Coasts' Clare Rugg explained: "It's a special formula for fur seals – the main ingredients are double cream and fish puree!
"The pup was a good birth weight and was very alert and active, she tried to feed but her mother had no milk, so keepers and our in-house vet team had to go in and separate them. Because she isn't receiving the natural immunity of her mother's milk she has had antibiotics and is in quarantine – we need to make sure she does not get any infections or is exposed to any viruses. If we had not stepped in she would have died."
Visitors to Torquay's coastal zoo have not been able to see the pup for a while, but staff are hopeful that she will soon start to make public appearances in a specially made pen. She is still too young to swim or to mix with the adult seals.
South American fur seal Grace gave birth early on the morning of Tuesday 3rd June. Keepers Lois Rowell and Libor Mach are now her main carers. She is given her special formula – which also contains vitamins and minerals, lecithin and enzymes to aid digestion – at 8.00am, midday, 4.00pm, 8.00pm and 11.00pm each day.
Clare again: "At first we gave her fluids with rehydration salts. Then we moved on to the rehydration fluid mixed with formula and then to full formula cream and fish smoothies! She is very vocal and very active – she likes to climb up things. We keep her cool with plenty of fresh air and she has a water bath to splash around in."
Meanwhile, Grace is also doing well and is eating well. For more information go towww.livingcoasts.org.uk or ring 0844 474 3366.