[fblike style="button_count" showfaces="false" width="450″ verb="like" font="arial"]

There are lots of homeless cats at your local Blue Cross rehoming centre in desperate need of a happy home. Whether you're a single person or a family we'd love to hear from you!
The Blue Cross Cat Rehoming Centre at Torbay was opened in October 1988, with a legacy from Mrs Millicent Grover, bequeathed by Mrs Foster.
In 2000 a new cattery and client facilities were added followed by a further cattery in 2004.
In 2012 funds were secured for a veterinary facility at Torbay, the Carlton Facility, thanks to a generous anonymous benefactor.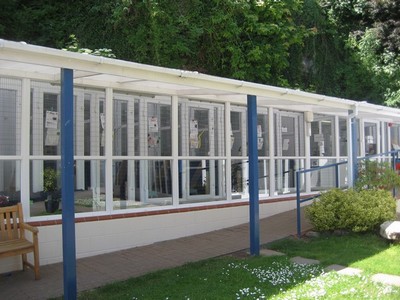 The Torbay centre concentrates on work with cats and we now offer the rehoming of dogs through our home direct scheme (Please note dogs are not onsite)
Since it opened the centre has helped more than 10,500 cats to have a happy, healthy future and find their forever homes.
The centre has anywhere between 40-60 cats onsite or in foster homes at any one time
We hold various fundraising events throughout the year which raise vital funds for the Torbay Centre.
Our next centre event is a coffee morning on Saturday 28th June 10.30am until 12.30pm. Everyone one is welcome to attend and join us for a drink and slice of cake, You can also meet some of our cats! Funds raised during the coffee morning will be used to purchase Perspex boards to cover the mesh in the catteries and help keep the cats warm and dry during the winter months which will cost around £1000 any excess will be spent on the local centre. We also hold an Open day which this year is on Saturday 16th August.
Blue Cross Torbay Rehoming Centre,
Ashley Priors Lane,
Watcombe,
Torquay,
TQ1 4SE.
0300 777 1550
Torbay@bluecross.org.uk
www.bluecross.org.uk