In a scene reminiscent of Aesop's Fables, vet Nicki Grint is twiddling a needle in the foot of a fully-grown male lion.
Lucifer, Paignton Zoo's 11 year old Asiatic lion, is blissfully unaware of the fact, and it's partly because of the needle that he remains pain-free. Nicki, a specialist in veterinary anaesthesia and analgesia, is using acupuncture to help with pain relief.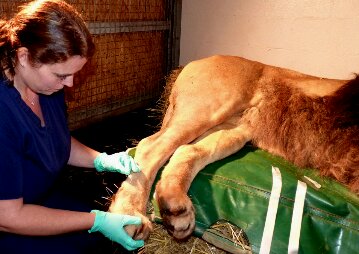 In the lion's den at Paignton Zoo in Devon are Nicki and veterinary surgeon Ross Doust, both from Cave Veterinary Specialists, based at Wellington in Somerset, along with Paignton Zoo Veterinary Associate Jo Reynard and one of the Zoo's vet nurses, Celine Campana.
Jo: "Lucifer had a tumour removed from his right hind foot before he came to Paignton Zoo, but the place has not healed properly." Today, the team is looking at this while anaesthetist Nicki takes the chance to practice the ancient Chinese technique of acupuncture. Although she has used it on dogs, this is Nicki's first cat – and at 190 kilos, it's a big one.
She explains: "We are using acupuncture to decrease pain and improve blood flow to the site, helping the healing process." Needles are inserted at 2.5cm intervals around the wound – the Chinese call this "ringing the dragon".
The needles are in Lucifer's foot for about 15 minutes. This is the first time acupuncture has been used on any animal at Paignton Zoo. Acupuncture is not commonly used in zoo animals; the procedure requires the animal to stay still, so they need to be under a general anaesthetic, which is only done when absolutely necessary.
Jo Reynard again: "We're using gas anaesthesia and all the usual medical painkillers. The acupuncture is simply being used opportunistically, as an adjunct to conventional therapy in the hope that it might help the wound heal."
Paignton Zoo Curator of Mammals Neil Bemment said: "We are grateful to Nicki and Ross for giving up their time in order to share their expertise. All the initial signs are that Lucifer will make a swift recovery."
In the story of Androcles and the Lion, a runaway Roman slave removes a thorn from the foot of a lion and his good deed is remembered by the animal years later when they meet in the Circus Maximus in Rome. Let's hope Lucifer remembers Nicki's good deed if they ever meet again…
Acupuncture uses thin needles to treat a range of conditions, most commonly pain relief. A form of complementary medicine and a key component of traditional Chinese medicine, it is thought to have developed thousands of years ago.
Lucifer, who got his name because his number in the computerised Animal Record Keeping System (ARKS) is 666, has recently arrived in Devon to join two females, mother and daughter Indu and Maliya.
Asiatic lions are classed as Endangered by the International Union for the Conservation of Nature. Paignton Zoo Environmental Park is a registered charity. For more information go towww.paigntonzoo.org.uk or ring 0844 474 2222.