[Update: One lane of the M5 has now reopened. Work continues to try and open lane 2.
The hard shoulder and lane one will remain closed over night whilst resurfacing work takes place.]
The M5 Southbound is currently closed after a serious collision between 2 lorries.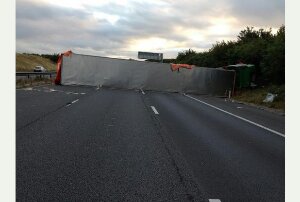 Junctions 24 Bridgwater and 25 Taunton are shut while two lorries are recovered after the 2 lorries crashed in the early hours of this morning.
Emergency services were called to the scene just before 3am.
This section of the motorway is likely to be closed for sometime as recovery takes place.
Devon and Somerset Fire Service said that one lorry had broken down on the southbound carriageway hardshoulder, it was then hit by a second lorry, which then turned onto its side, blocking all 3 lanes.
One lorry driver was trapped in a cab but has since been cut free around 5am and taken by ambulance to Musgrove Park Hospital in Taunton. His condition is unknown.
It is thought that the other driver suffered from minor injuries.
Join us on facebook.
[do_widget "Facebook like box (jetpack)"]