Fire crews are currently tackling a major fire at a car breakers in Devon
The fire is said to have started in the yard in Woodsbury at around 2.15pm.
It is reported that there are at least ten units from Devon and Somerset fire service are currently at the scene.
Nearby homes are being evacuated as a precaution.
Smoke can been seen from as far away as Torbay.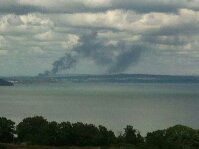 Globe Hill is closed both ways due to the fire as smoke is blowing across the road between Oakhayes Road and Fulford Way.
Police are on scene and directing traffic.
Police have advised that the road is likely to remain closed for several hours whilst the fire service are making the yard safe.
Keep up to date about what's happening around South Devon,
join us on facebook.
[do_widget "Facebook like box (jetpack)"]