(Last Updated On: September 21, 2014)
Update: Very sadly the young man passed away yesterday morning (Saturday 20 September) More here
Update: Torbay coastguard have stated that the injured person was a 17 year old male.
Emergency services were called to reports of a person falling down a cliff in Torquay this afternoon (19 September)
It is believed the male fell around 30 feet and has serious head injuries.
Torbay Coastguard said
"Coastguard team members first on scene administered first aid until paramedics turned up to take over, whilst the rest of the team prepared cliff lines at the top of the cliff, assisted by Berry Head Coastguard."
[Give them a 'like' on facebook to show them some support]
The teenager was taken by lifeboat to Haldon Pier, Torquay harbour where people at the scene say ambulance crews were seen resucitating him.
He was then taken to Torbay hospital by ambulance.
Police closed Ilsham Marine Drive until 4pm this afternoon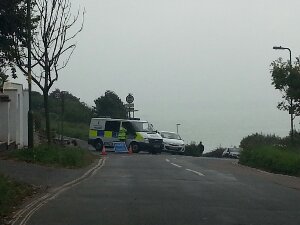 Update to follow.
Keep up to date with what's happening in the area, join us on facebook
Error: Your Requested widget "Facebook like box (jetpack) " is not in the widget list.
[do_widget_area sanfrancisco-default-sidebar]

[do_widget id="media_image-29"]
[do_widget id="media_image-40"]
[do_widget id="media_image-38"]
[do_widget id="media_image-18"]
[do_widget id="media_image-36"]
[do_widget id="media_image-44"]
[do_widget id="media_image-43"]
[do_widget id="media_image-23"]
[do_widget id="media_image-42"]
[do_widget id="media_image-31"]
[do_widget id="media_image-28"]
[do_widget id="media_image-41"]
[do_widget id="metaslider_widget-2"]
[do_widget id="metaslider_widget-3"]

[do_widget_area widgets_for_shortcodes]
[do_widget_area wp_inactive_widgets]

[do_widget id="search-2"]
[do_widget id="search-4"]
[do_widget id="archives-11"]
[do_widget id="nav_menu-3"]
[do_widget id="archives-4"]
[do_widget id="archives-6"]
[do_widget id="text-2"]
[do_widget id="text-39"]
[do_widget id="categories-3"]
[do_widget id="recent-posts-2"]
[do_widget id="archives-2"]
[do_widget id="recent-comments-2"]
[do_widget id="categories-2"]
[do_widget id="meta-2"]
[do_widget id="eu_cookie_law_widget-2"]
[do_widget id="eu_cookie_law_widget-3"]