Today sees the launch of a new domestic abuse awareness campaign 'Shatters Lives' which highlights the trauma some children go through when living at home with domestic abuse.
The campaign is being rolled out with the police in partnership with the Devon Domestic and Sexual Violence and Abuse Alliance.  The campaign materials highlight two children sitting in a house huddled together on the stairs.   The message states 'Domestic Abuse Shatters Lives – see it, hear it, change it'.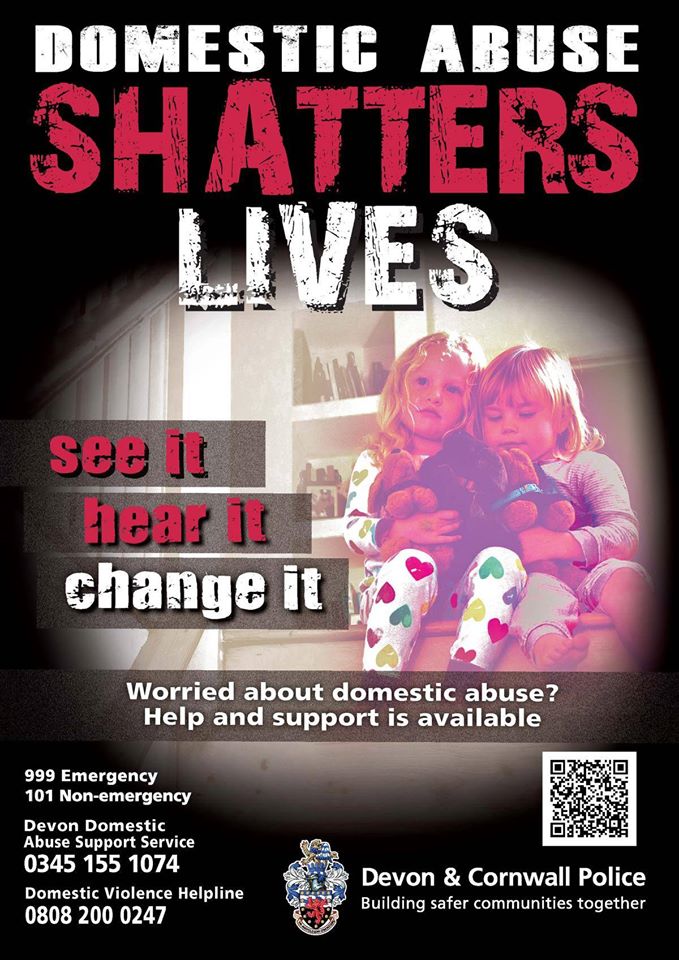 The campaign which launches for Domestic Abuse Awareness Week (24-28th November) will continue to run in shopping centres, across social and digital media and on buses throughout December, leading up to Christmas and New Year when domestic abuse incidents are significantly higher.
One in four women, and one in six men experience domestic abuse at some point in their lives, and an estimated 750,000 children in the UK witness domestic abuse in their home (Department of Health).   Children affected may have limited social skills, express violent or angry behaviour and be unable to manage feelings and emotions.
Children witness domestic abuse in a number of ways; if they aren't in the same room whilst the abuse is happening, they might be able to listen from the next room or see bruising or scarring on a parent or carer. In some cases, children have been forced to watch abuse and even encouraged to join in with emotional abuse.
Some research has also found that playing witness to domestic abuse is the single most defined predicator of children becoming either perpetrators or victims themselves later in life (UNICEF 2006: 7).
Detective Superintendent Paul Northcott from the Public Protection Unit says; "Domestic abuse is a complex crime affecting all of our communities across Devon and Cornwall.  These crimes have a profound and often tragic affect not only on the victims but also on their families including their children. Working with our partners we are committed to supporting victims and children.
"This is a Force priority, and we always aim to protect the community's most vulnerable people, striving to help families and safe guard children where there is domestic violence.  If you know of anyone who needs help in this area, we would encourage you to come forward. There are support services and partners across the region who are here to help."
Devon and Cornwall's Police and Crime Commissioner Tony Hogg says: "Domestic abuse is a significant problem across all communities in Devon and Cornwall. In the run up to Christmas this campaign will help to spread the word that domestic violence is unacceptable behaviour, and our society needs to change it. People should feel confident that if they report incidents such as these they will be treated seriously and investigated thoroughly."
For information and advice please call the Domestic Abuse 24 hour National Domestic Violence Helpline – 0808 2000 247.  The Devon Domestic Abuse Services Support (Splitz) 0345 155 1074 and Cornwall REACH hub number is: 0300 7774 777 or the police: 999 in an emergency or 101 in a non-emergency.