(Last Updated On: October 7, 2014)
A seal at Living Coasts has received crucial medical treatment from South Devon veterinary experts.
South American fur seal Grace was given slow-release implants in 2011 to control her immune system, which causes problems with her eyes. These have now been replaced.
The implants, under each eyelid, help dampen down her immune system, which is thought to cause white patches on both eyes. The procedure was carried out at Living Coasts' sister zoo, Paignton Zoo, which has full veterinary facilities including an operating theatre.
She was examined and anaesthetised by zoo vets Ghislaine Sayers, Jo Reynard and Christa van Wessem and vet nurses Celine Campana and Sonya Gadhia. The eye examination and implant placement was carried out by specialist veterinary ophthalmologist Jim Carter and his resident, Goran Kosec, from South Devon Referrals, based at Abbotskerswell Veterinary Centre. Living Coasts keepers Libor Mach and Chris Dunn were also present.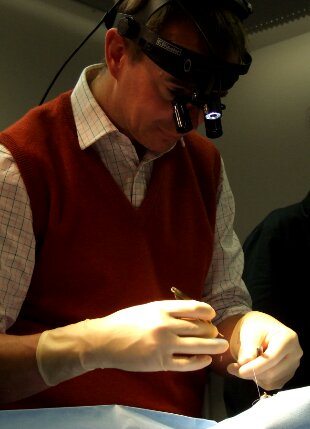 Living Coasts operations manager Clare Rugg said: "We knew that the first implants would run out in about three years. This time the operation was very quick – we simply replaced the old implants with fresh ones. But if we hadn't done the work, Grace's condition would have deteriorated again."
Whenever the zoo vet team anaesthetises an animal for any reason they take the opportunity to carry out a full health check. This includes a clinical examination of all body systems, blood samples, radiographs, weighing and a body condition score. Clare: "The whole procedure went well. And a few hours later Grace was swimming about and eating fish back at Living Coasts."
Twelve year old South American fur seal Grace has been at Torquay's coastal zoo for ten years. She developed a corneal ulcer in her right eye when she was a pup at Bristol Zoo and this left a scar. The vet team performed an examination of this scar tissue in October 2008 and placed the first implants in 2011. Living Coasts is a registered charity. For more information ring (01803) 202470 or go to www.livingcoasts.org.uk
Keep up to date with what's happening in the area, join us on facebook…
Error: Your Requested widget "Facebook like box (jetpack) " is not in the widget list.
[do_widget_area sanfrancisco-default-sidebar]

[do_widget id="media_image-29"]
[do_widget id="media_image-40"]
[do_widget id="media_image-38"]
[do_widget id="media_image-18"]
[do_widget id="media_image-36"]
[do_widget id="media_image-44"]
[do_widget id="media_image-43"]
[do_widget id="media_image-23"]
[do_widget id="media_image-42"]
[do_widget id="media_image-31"]
[do_widget id="media_image-28"]
[do_widget id="media_image-41"]
[do_widget id="metaslider_widget-2"]
[do_widget id="metaslider_widget-3"]

[do_widget_area widgets_for_shortcodes]
[do_widget_area wp_inactive_widgets]

[do_widget id="search-2"]
[do_widget id="search-4"]
[do_widget id="archives-11"]
[do_widget id="nav_menu-3"]
[do_widget id="archives-4"]
[do_widget id="archives-6"]
[do_widget id="text-2"]
[do_widget id="text-39"]
[do_widget id="categories-3"]
[do_widget id="recent-posts-2"]
[do_widget id="archives-2"]
[do_widget id="recent-comments-2"]
[do_widget id="categories-2"]
[do_widget id="meta-2"]
[do_widget id="eu_cookie_law_widget-2"]
[do_widget id="eu_cookie_law_widget-3"]