[fblike style="button_count" showfaces="false" width="450″ verb="like" font="arial"]
Occombe beer festival held its annual beer festival this weekend (6th and 7th June) it is Torbay Coast and Countryside Trusts biggest fundraising event.
The threat of thunderstorms didn't put off revellers and thousands attended the event.
Some went prepared with wellies and ponchos but the weather held off and the sun shone (through the clouds mostly!)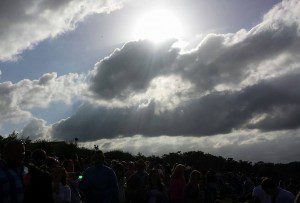 With a great line up over the two days and Bay's Brewery on hand to provide over 70 local beers and ciders , it was set to be a great weekend – it didn't disappoint.
With thousands of people attending and beer flowing, you may expect some incidents but nothing major has been reported.
A sign of a well organised, well run festival.
The line up:
Friday –
Emerald Hill: www.youtube.com/watch?v=fFjxpE3JCXw
Sound of the Sirens: www.soundofthesirens.net/video
Society Rocks: www.youtube.com/watch?v=x6gqXLyGt9s
The Simmertones: www.thesimmertones.co.uk
Session One: www.session-one.com
Saturday –
Three Bags Full: www.3-b-f.co.uk
The Sunday Skyclub: facebook.com/thesundayskyclub
Duke Johnson & The Sorchers: www.facebook.com/thescorchers
Melosa: www.youtube.com/watch?v=pWB8MYOX5Hk
Triple Threat: www.youtube.com/watch?v=C1ythhVUcx4
Land of The Giants: www.landofthegiantsmusic.co.uk/video.html
The annual event is restricted it to over 18s and gives locals the chance to experience the festival vibe without going further afield.
At £10 (Friday) and £15 (Saturday) a ticket it provided great value for money.
We asked you to get in touch with your views on facebook via We Are South Devon and Spotted Torquay. Here is what you had to say:
"Friday night at Occombe Farm, brilliant bands and great company"
"We attended on Friday, we had a great night. It was our first time at the festival and will not be our last. Very well organised, great music and lots of beer! See you at the Cider festival"
"We went on Saturday, great night! Great music (love triple threat!), nice atmosphere and some good food on offer (needed to soak up the alcohol) The toilets are worth a mention, they were clean (or maybe we were lucky!) Only downside was bay brewery running out of a pear cider, upside.. I then discovered they were selling pimms.  All in all a good day"
"Went on Saturday. Really good day/night apart from several ciders running out. Was disappointed that 3BF were not playing at a decent time (part of the reason I went but missed them playing!)"
"Went Saturday, really good day/night, it's got a bit expensive in the last few years but then it is for charity. They ran out of strawberry cider by 4pm but other than that everything was fun! And yes the toilets were clean. Well organised"
"We went both days, well worth the money. Quality bands, quality beer!"
"What an Awesome night, definitely recommending to family and friends. we will see you again next year!"
"Great layout this year, I have been every year and it just keeps getting better!"
Thank you to everyone that sent in photos. Have you got some photos that you would like to add to the gallery? Email us wearesouthdevon@gmail.com
Can't wait until next year? Get your tickets for Occombe cider festival now.
Read more here: https://wearesouthdevon.com/event/occombe-cider-festival/
We will see you all at the Cider festival in September!