Crowds gather at Penn Inn last night (6 October) to watch Beams being lifted into place to create the flyover.
The beams are being lifted into place over the next few days (there will not be a beam lift tonight as work still needs to be done on the initial beam)
WASD contributor Glenn Bowden headed down with his camera. Here he tells us more…
I wanted to go and watch a part of history as the first section of the flyover for Penn Inn roundabout was lifted into position.
Knowing the road was due to be closed at around 9pm we got there just after, the road from torquay remaining open with the Northbound slip road up onto the A380 dual carriageway being close.

Traffic was being diverted up through Newton Abbot and through Decoy in the opposite direction, which seemed to be running smoothly.
At about 9.45pm, the first beam made its way down towards the roundabout.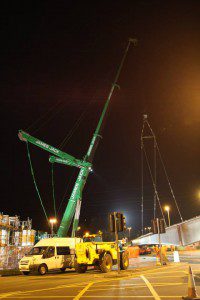 These beams that are being constructed in the large central reservation area just north of the roundabout, and te first one was mounted onto short lorries, one at the front and one at the rear and was manouvered into postion on Penn Inn with the huge crane towering above it.

We were handed information sheets by some of the helpful workforce and told that once the crane was attached it would make 3 adjustment lifts to make sure that the beam weigh was evenly balanced and ready for lifting, and this could take an extra hour.

The beam was inched slowly off of the heavy haul lorries which then departed and the balance adjustments made.
Approximately 11.30pm, with the rain falling steadily, the first beam was hoisted aloft and pulled into position.
This slideshow requires JavaScript.
With the beam hovering about 2ft above its final resting place the engineers made minor adjustments to each end before it would finally be lowered onto its mounts.

This is when Mother Nature was having none of it, the heavens opened to a huge downpour and the large crowds that had gathered all around the site started to make their way home.
Keep up to date with what's happening in the area, join us on facebook…
[do_widget "Facebook like box (jetpack)"]