[fourcol_three]Some say he's a local-legend and for others he's their best friend, living in Torbay isn't all that bad.[/fourcol_three] [fourcol_one_last][fblike style="button_count" showfaces="false" width="450″ verb="like" font="arial"] [/fourcol_one_last]
"No matter how bad it gets, at the end of the day you're still breathing and life's good man!"
[twocol_one]Hi Owen! How did you get to where you are today?
My dad got me into the guitar when I was a kid. Now I can read music and I learned to play the guitar, the piano, the saxophone and the harmonica! I toured Europe with a Jazz band when I was 18.
Is the Title of the Song Personal to you?
I've got mates who are doing really well; I never like asking favours off people. I want to be the guy who made it by himself. Do you know what I mean? It's like, I've stole and I've borrowed, but I'll never beg for something. I'd never lower myself to ask someone to do something for me.
What events have you been involved in?
My favourite gig to play is Summer Moon festival – the beer festival. I've played a few of them; it's a great crack because everyone's wasted! Everyone has a great time!
I also played at Reverb in Shoreditch – it was an industry showcase so there was SBTV, Sony Music, a few labels and a few radio stations there.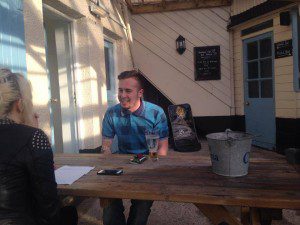 [fblike style="button_count" showfaces="false" width="450″ verb="like" font="arial"][twitter style="horizontal" float="left"]
[/twocol_one] [twocol_one_last]Your Original Song Called 'I'll Never Beg'… Is there a meaning?
I really wish that I could say it does. I actually made the story up. It's basically a follow on from a track of mine called 'Python', I suppose the meaning behind it is to keep your head up about everything. It could be worse; No matter how bad it gets, you're still breathing and life is good
How do you see your future and where would you like to be?
I would like in the next year for music to be my job. I want to be playing in venues where people have come to listen to me and play at some big festivals. If a gig is worth playing for no money, it's a good gig.
I'd like to say that I'd like to spread a message but if there's any message it's just to be happy.
Right! Fun time! If time travel existed… What era would you travel to and why?
Right! Well! There are a lot of options here and I get to choose out of like, a few thousand years probably.
60's… I would have to been able to go to Woodstock or the first Glastonbury! I'd go to the future!
Do I get one trip? Or do I get a couple?
Well it depends!
Can I loop round?!
You can do a loop!
Okay, I would go to 2000 years in the future and see the apocalypse that we've caused! Literally this generation has ruined it! After I've got there, I'd love to see what I'm doing in 10 – 20 years time and see where I am. See what I'm doing personally and then go back and make it different or make it better!
But if it was the past, I'd go to the sixties.
[/twocol_one_last]
You live in Torbay! What are your views?
I think it's great. I love it down here. Realistically, it's not the greatest place to be playing what you would probably call 'Urban' music, but, there are a lot of good venues and I think the pace of life and the way of life down here is just so slow. Everyone is always in the mood to do something great. As soon as the sun comes out there's no greater place to be in my eyes.

Owen has many tour dates coming up this year; Lemonfest on the main stage, Glas-Denbury and Torquay Football Ground Charity Event.
Owen is sponsored by Bloc Clothing
Owen thinks going to the pub is a hobby!
In the summer Owen is releasing a mixed-tape with around 8 – 10 tracks on it. Owen tells us that there will be a few exciting collaborations in there too!
 Check out his latest release below [click pic]: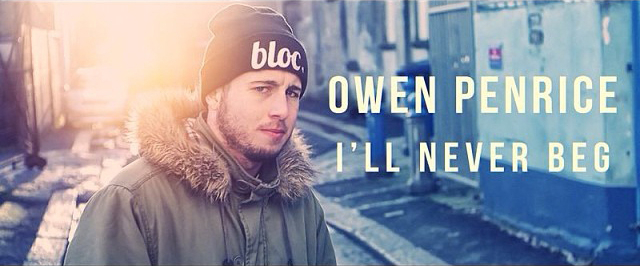 [button link="https://twitter.com/GemmOConnor" style="info" color="teal"]Follow Writer[/button]