[fblike style="button_count" showfaces="false" width="450″ verb="like" font="arial"]
One of the greatest natural history broadcasters of all time has spent a day at Paignton Zoo in Devon.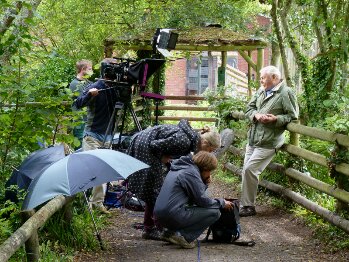 Sir David Attenborough visited the charity to film for the third series ofAttenborough's Natural Curiosities, to be shown in 2015.
Paignton Zoo Curator of Mammals Neil Bemment said: "It was an absolute honour to welcome the face and voice of natural history television to our zoo. The producer approached us because they thought we had the best-looking outdoor enclosure for orang utans of any UK zoo, which is quite a compliment. They asked us not to let on beforehand, because they were worried that crowds would delay filming."
The broadcaster and naturalist filmed several pieces about orang utans and tool use. Bornean orang utan Mali, with baby Tatau in tow, used sticks to get honey out of holes in tree trunks and investigated exotic durian fruit, which are famous for their pungent smell.
Paignton Zoo Environmental Park is a registered charity. For more information go to www.paigntonzoo.org.uk or ring 0844 474 2222.