(Last Updated On: May 1, 2014)
A Rothschild's giraffe born at Paignton Zoo in January is to be called Joanna.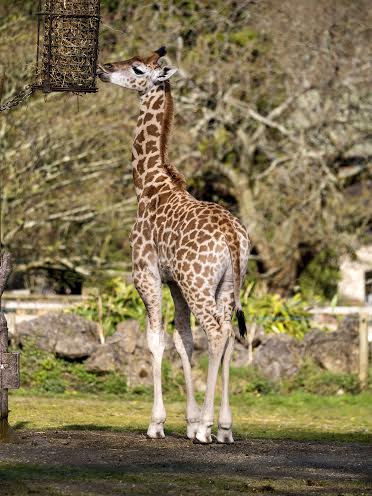 The female calf, now three months old, was named by visitors who voted for their favourite names by placing donations in a special collecting box. Voting raised nearly £200 for the charity's conservation work.
The name Chloe was a close second, followed by Florrie, Rusa, Ehiska, K'Tusha, Arya, Dasa, Kalena and Hvezda.
Six foot Joanna was born to mother Sangha and father Yoda on the afternoon of Saturday 25th January. The other youngsters at the Zoo are Valentino, born to mother Janica on 14th February 2012 and Otilie, who was born to mother Sangha in September 2012.
They are all Rothschild's (Baringo) giraffes. Rothschild's giraffes are classified as Endangered – there is a European Endangered species Programme for the species. Paignton Zoo Environmental Park is a registered charity. For more information go to www.paigntonzoo.org.uk or ring 0844 474 2222.