[fblike style="button_count" showfaces="false" width="450″ verb="like" font="arial"]
Paignton Zoo is going orange for orang utans. Staff at the Zoo – a registered charity – are marking World Orang utan Day on Tuesday 19th August.
Taking part in the Day was the bright idea of Head Keeper Craig Gilchrist and Educator Poppy Gittsham. People will spend the day near the orang enclosure, offering visitors the chance to play games about palm oil, giving out information, entertaining children with an orang utan puppet and handing out stickers.
Zoo spokesperson Phil Knowling said: "The day is a chance to celebrate these amazing apes and to raise awareness about their plight."
Paignton Zoo is home to six Bornean orang utans, including two youngsters, Tatau and Natalia. The charity campaigns against unsustainable palm oil production that is destroying orang utan habitat in South East Asia. Head Keeper Craig Gilchrist co-chairs a key national Primate Focus Group.
Bornean orang utans have suffered declines; the population is now estimated at around 50,000. To put this in context, there are fewer Bornean orang utans in the entire world than there are human beings in Torquay (the population of Torquay is about 62,000).
The Bornean orang utan (Pongo pygmaeus) is threatened by hunting, the pet trade and the destruction of its rainforest habitat. Forest is being destroyed to create palm oil plantations. Given the declining populations, measures such as switching to alternative oil products and maintaining sustainable populations of orangs in zoos are becoming ever more important.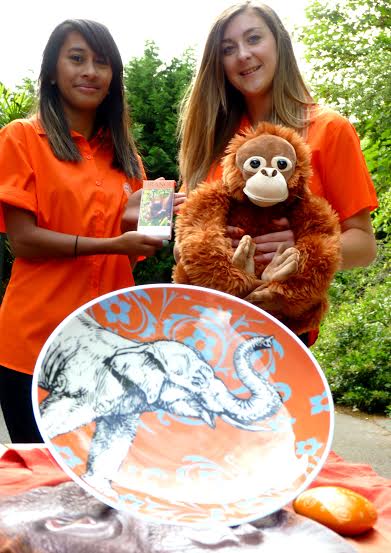 Any money raised on the day will go into the Zoo's conservation fund. Paignton Zoo Environmental Park is a registered charity. For more information go to www.paigntonzoo.org.uk or ring 0844 474 2222.
[do_widget "Facebook like box (jetpack)"]